Oliver and Amelia most popular baby names in Wales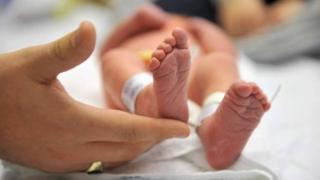 Oliver and Amelia remain the most popular names for babies born in Wales in 2014, the ONS has revealed.
For boys, Oliver has topped the list since 2013 while Amelia has been the most popular girls' name since 2012.
The top 10 Welsh names for girls that year were Amelia, Olivia, Isla, Ava, Emily, Mia, Ruby, Evie, Lily and Poppy.
And for the boys, Oliver, Jacob, Jack, Noah, Charlie and William, followed by Alfie, Dylan and Logan joint seventh, and Leo and Oscar joint 10th.
The figures showed Oliver and Amelia were also the most popular first names given to babies born in England in 2014.