Geraint Stanley Jones, former head of BBC Wales and S4C, dies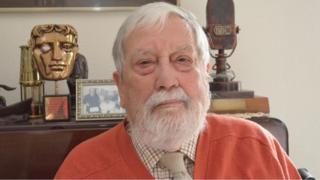 The former head of BBC Wales and S4C, Geraint Stanley Jones, has died aged 79.
He was the controller of BBC Wales in the early 1980s at the time of S4C's launch, and went on to run the Welsh language channel in 1989.
Among his other roles he had been a member of the boards of Welsh National Opera and the Wales Millennium Centre.
He was also vice president of the Royal Welsh College of Music and Drama.
Mr Jones was previously a member of the Arts Council of Wales.
CBE
His broadcasting career began as a studio manager with BBC Wales in 1960. He went on to become a TV producer before being appointed head of programmes in 1974.
Programmes including Ryan and Ronnie, Grand Slam and The Life and Times of David Lloyd George were produced under his watch.
He became controller of BBC Wales in 1981 at a pivotal moment for Welsh broadcasting, as his predecessor Owen Edwards left the Corporation to oversee the impending launch of S4C.
During his time as a senior manager at BBC Wales he led the launch of Radio Cymru and Radio Wales, the re-launch of its English language television service, and oversaw the BBC's role as a provider of programmes for the new S4C.
He was also responsible for launching BBC Cardiff Singer of the World in 1983.
Mr Jones was to move to the Welsh language channel himself as chief executive from 1989 until 1994.
He was awarded a CBE for services to broadcasting in 1993.
BBC Wales director Rhodri Talfan Davies said Mr Jones's "immense contribution" to Wales' national and cultural life was "all around us".
In a tribute, he said: " His vision and passion forged two national radio stations, the BBC's longest-running television drama series, Pobol y Cwm, and helped establish S4C in 1982.
"Best of all, Geraint was one of the kindest and most generous men I have met. He never lost his love of broadcasting and thought deeply about its opportunities and challenges."
S4C Authority chairman Huw Jones said Mr Jones had had a "far-reaching international vision for Wales' role, her culture and broadcasting, in the world".
S4C chief executive Ian Jones said Mr Jones had been brimming with ideas and had inspired him when he took on his present role.