Welsh Rock For Refugees: Artists launch album to raise money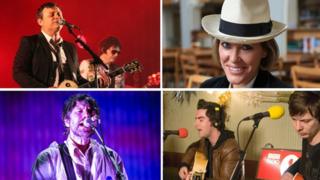 Some of Wales' best known musicians have released an album together to raise funds for a refugee charity.
Artists including Manic Street Preachers and Stereophonics have contributed songs to 30-track album Reach Out with proceeds going to Refugee Action.
Super Furry Animals and Cerys Matthews have also contributed tracks.
Journalist David Owens launched the project after a photograph of a young drowned refugee sparked an outcry.
He said: "I was one of those who shed tears at the harrowing images.
"As a father it broke my heart. I wanted to do something but like many of us felt utterly powerless."
He added: "I can only thank all the artists who agreed to donate tracks."