Tenby man who invented the equals sign remembered in exhibit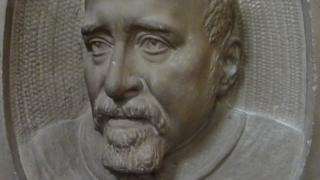 Mathematician Robert Recorde was born in Tenby in 1510, and more than 500 years later he's still the bane of schoolchildren the world over.
As well as laying claim to being the inventor of the mathematical equals sign, Recorde was also the man who introduced algebra to Britain.
He was admitted to Oxford aged just 15, elected fellow of All Souls College at 21, served as personal doctor to both Edward VI and Mary I, but still managed to end his days in a debtors' prison.
Now his incredible life and achievements are being celebrated in All Angles Covered, an exhibition at Tenby Museum and Art Gallery, funded by the London Mathematical Society (LMS).
LMS President Professor Terry Lyons said: "Robert Record was, through his introduction of effective notation, one of the influential leaders who helped to transition Britain from the medieval to a modern approach to arithmetic using zero and decimal notation.
"His contribution to computation was a fundamental one."
Born into a comparatively poor protestant family, Recorde had a humble education at the parish church of St Mary, where his brilliance in maths was first spotted.
He outlined his idea for the equals sign just a year before his death, in his 1557 work The Whetstone of Witte.
Stating that it represented that "noe 2 thynges can be moare equalle", the symbol was meant to illustrate two long parallel lines that could, if necessary, be drawn right the way around the globe and still not join together.
Also coining the trigonometry term "sine" and calculating the method for deriving a square root, Recorde wrote in English - rather than Latin as was normal at the time - as he wished his works to be read by the widest possible audience.
But Recorde was as flawed as he was brilliant.
When (Bloody) Mary I reintroduced Catholicism, his Protestantism put him at odds with Mary's court; if not actually with the queen herself, who continued to favour his services as a doctor despite his faith.
His public standing further suffered through unsuccessful and loss-making spells as controller of both the Royal Mint at Bristol and Mines and Monies in Ireland.
But his final fall from grace came with a protracted defamation case against Sir William Herbert (later the Earl of Pembroke).
When Recorde lost he was ordered to pay enormous damages for the time of £1,000, and being unable or unwilling to settle, he was sent to the King's Bench Prison in Southwark where he died in 1558.
All Angles Covered includes a series of bilingual interpretive panels, along with illustrative materials, art works and mathematical artefacts.
Tenby Museum and Art Gallery's collections manager Mark Lewis said: "This is such an exciting adventure and we are so pleased to be involved in this national event of celebration.
"The support of the London Mathematical Society, both financially and in an advisory capacity, has been invaluable and we hope that people get to learn a great deal more about his fascinating Tenby man who has had such influence on our every-day lives."