Cardiff dentist helps to treat refugees in Calais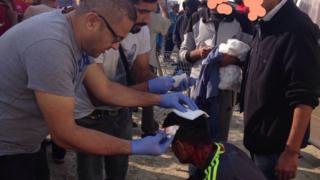 A dentist is setting up a mobile clinic to help migrants and refugees in Calais after an appeal for help led to donations for a caravan and equipment.
Raid Ali, from Cardiff, started travelling to France after seeing the plight of those fleeing war-torn Syria.
He said he was shocked at how little help they were receiving at a makeshift camp, known as the Jungle.
He added many had serious facial injuries after trying to jump on moving lorries and trains.
"These people have been there in terrible conditions for months and the last thing they are thinking about is do they have dental treatment," he said.
"There's no toilets there, hardly any food, they have to queue six hours for a shower... But of course the worst thing you can have is a toothache.
"There are also a lot of facial and head injuries, a lot of abscesses and broken teeth.
"I just want to help in whatever way I can."
For the last few weeks, Mr Ali has been finishing work in Cardiff on Friday and heading to Calais with a small group of other medics.
At first, he said he just walked from tent to tent offering help where it was needed because there was no organised medical care at the camp, which has been set up by a motorway.
But after word spread about the conditions on social media, people have helped raise money for the caravan while others have donated dental equipment, brushes and even a dental chair.
It means he now has a base to carry out his work.
"We put up an appeal on Facebook one evening to raise £500 for a small caravan and by the morning we had much more than that," said Mr Ali, 42, who moved to Cardiff from Iraq in 1999.
"Then two very generous ladies picked up the caravan after we bought it on eBay and drove it to Calais."
More doctors and dentists have also volunteered their help and expertise.
"When I went to Calais three weeks ago there were no dentists and maybe two to three doctors," added Mr Ali, who is a partner in the Restore Dental Group, which has three practices in Cardiff and Cwmbran.
"Now there's doctors and dentists coming from all over the UK."
They are needed, according to Mr Ali.
"Two weeks ago there were very few children. Now there are lots and seven pregnant ladies too," he said.
"The numbers are getting more and more every day. You leave the Jungle and the next thing there are 50 to 60 more tents.
"The place is just like a jungle. It really is awful. There's just nothing there. Some people have managed to put water there for them but there's no sewage so you are left with just bowls of dirty water after people have washed.
"It's very devastating - you look at the children there, they don't even have drinking water. They have to wait for people to donate it.
"There are no toilets. Some portable toilets were put there but they filled up with water and now you can't even open the door to get into them.
"And, trust me, I would say 80% are professionals - doctors, professors, engineers, young guys who were in university.
"They had to leave their homes because they feared for their lives.
"When you see the situation at the Jungle, I think, as a parent, could I take my children there? No way.
"But in reality they take their children there to get safe. It's better than Syria."