Selling water worth 'hundreds of millions' to Wales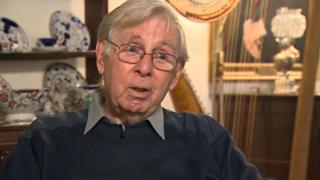 Selling Wales' water would be worth hundreds of millions of pounds, a former utilities company boss has said.
John Elfed Jones, former chairman of Welsh Water, said there was an opportunity for the nation to profit.
He said: "But at the moment because of declarations, not laws of the land but declarations from Westminster, we are not allowed to transfer water from Wales to England for profit."
The UK government said it was considering the boundary for water.
Mr Jones told the BBC's Newyddion9 programme: "There's an innate value in the water. It's the same as saying there's no right to make profit from oil in Scotland.
"And imagine a part of England, say in the east that grows big crops. If we in Wales were without food, would they be willing to transfer the crops to us without profit? I highly doubt it."
A Welsh government spokesman said "any marketing" of large sums of water would need "significant investment" in reservoirs and pipes and it would have to "consider any profit" against "the effect on supplies and possible higher costs to customers."
Mr Jones added: "It's worth hundreds of millions of pounds. This isn't the only answer... but it will make a real sizeable contribution to the Welsh economy."