Birds of prey shot, trapped or poisoned in 23 incidents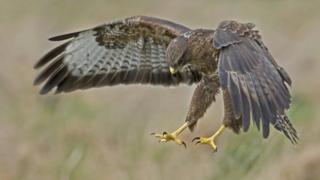 Birds of prey in Wales were reportedly shot at, trapped or poisoned in 23 incidents reported to RSPB Cymru in 2014.
Reports included the shooting of a buzzard and the poisoning of a peregrine falcon, a red kite and a buzzard.
The charity said the figures represented "only a fraction" of the illegal persecution in Wales.
It is calling for better application of laws to protect Wales' birds of prey.
RSPB Cymru's biodiversity manager, Stephen Bladwell, said: "To protect our magnificent birds of prey we must defend the laws that protect them, in particular the EU Nature Directives."