Pele shirt sold for £2,100 to fund new rugby club house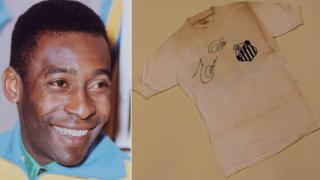 A football shirt signed by football legend Pele raised £2,100 at auction for a village rugby club.
The 1970s Santos FC jersey was one of a collection sold by Swansea valley side Cwmtwrch RFC to raise money for a new club house.
In total, the memorabilia raised £18,000 at the auction.
But the highest bid of the day was the £19,000 paid for a Wales rugby jersey worn in the 1905 victory over New Zealand.
Items sold at the Vale of Glamorgan auction by Cwmtwrch RFC also included a Llanelli rugby jersey worn by fly-half great Phil Bennett, which sold for £500 and a Tour de France yellow jersey belonging to Eddy Merckx, which went for £4,200.