Da Vinci's art is star of Swansea's revamped Glynn Vivian gallery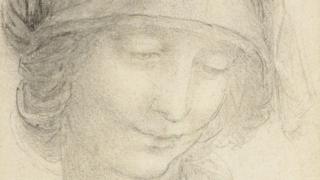 The long-awaited reopening of Swansea's Glynn Vivian Art Gallery is to be celebrated with an exhibition of drawings by Renaissance master Leonardo da Vinci in October.
The gallery closed its doors for a £6m refurbishment in 2011, shortly after celebrating its centenary.
But the estimated three-year project was delayed by two years after the original contractors tasked with the renovations, Opco Construction, went into administration in 2013.
The gallery's Grade II-listed status and difficulties working on a busy city centre site also caused further delays.
However, councillor Robert Francis-Davies, Swansea council's cabinet member for enterprise, development and regeneration, believes the improvements have been well worth the wait.
"Having overcome these issues, the people of Swansea and visitors to the city have a lot to look forward to when the gallery reopens to the public this autumn," he said.
"Staff are busy working on a top quality exhibition, educational and workshop programme that will benefit many hundreds of thousands of people, and will also soon start an extensive programme of returning and unpacking our vast collection and preparing the exhibition, public and learning areas for re-opening."
Funded by the Arts Council of Wales, the Welsh Government, the Heritage Lottery Fund, conservation body Cadw, and Swansea council, the project includes a new lecture theatre, library, exhibition spaces and larger hold for the storage and conservation of delicate artwork.
An extension links the 1970s and 1911 sections of the gallery, with a new entrance making the building fully wheelchair accessible for the first time.
And first to be exhibited there will be 10 priceless Leonardo da Vinci drawings from the late 15th and early 16th centuries, loaned by the Royal Collection.
The Italian, although a trained painter and best known for works including the Mona Lisa and The Last Supper, also expanded his activities into sculpture, architecture, engineering, botany, geology, zoology, mapmaking, hydraulics, optics and anatomy, and his principal tool of investigation was drawing.
The drawings were originally bound in a single album, which was probably acquired in the 17th Century by King Charles II.
Mr Francis-Davies said: "These drawings from one of the greatest artists and intellectual minds the world has ever known will be of interest to both national and international audiences, so they're an ideal way to kick-start our plans to cement the gallery's reputation for cultural excellence."
The Edwardian Baroque gallery was built to house the art collection of Richard Glynn Vivian, after the son of industrialist John Henry Vivian gifted it to the city.
As well as paintings by Claude Monet, Augustus John and Kyffin Williams, it boasts an international collection of porcelain and Swansea china.
The Da Vinci drawings will be on display from 15 October.