'Several cases' of adder bites in north Wales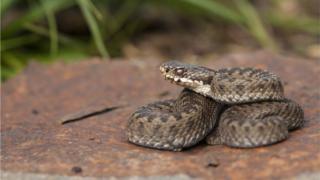 A spate of adder bites has been reported in north Wales, a health board has confirmed.
Betsi Cadwaladr University Health Board said there had been "several cases" in the last few weeks.
Adders are the only wild venomous snakes found in the UK.
Dr Linda Dykes, of Bangor's Ysbyty Gwynedd emergency department, advised people to keep children and dogs out of sand dunes, stay away from high-risk areas and avoid touching the snakes.
"They're very quick, I don't think people realise how fast they are, and their bites can be very unpleasant and dangerous," she said.
Advice on treatment of an adder bite
Only about one third of adder bites actually transmit venom into the wound
If the bitten person becomes very ill within minutes of the bite, call 999 for an ambulance response
If the bitten person does not become ill, but develops swelling and a sensation of tingling in the vicinity of the bite, they will need hospital treatment
Keep the limb still, for example in a sling if it is an arm, and proceed directly to hospital
Adder bites where there has not been any transfer of venom (no signs of illness, swelling or tingling) can be treated as minor wounds - clean the wound, cover it and check whether the person has been covered for tetanus
Source: Betsi Cadwaladr University Health Board