Euro 2016: Super Furry Animals love 'magical' Wales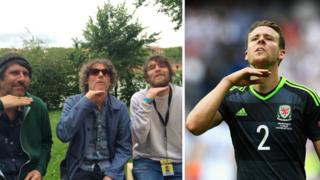 Super Furry Animals say it has been "magical" to follow the Wales football team in France for Euro 2016.
The band played to a packed crowd in Toulouse on Saturday ahead of the team's crucial final group game against Russia in the city on Monday.
As part of their set they played their unofficial Euro 2016 song, Bing Bong.
Guitarist Huw Bunford said: "The stars aligned, the teams came together and we were invited."
The band - whose members hail from Cardiff, Bethesda and Bangor - watched Chris Coleman's opening two games, a 2-1 win against Slovakia in Bordeaux and a 2-1 defeat to England in Lens.
Singer and guitarist Gruff Rhys said Bordeaux had been "magical", adding: "We couldn't believe it was real."
'Nice atmosphere'
Bassist Guto Pryce said: "I went to a football game on a bike. I haven't done that since I was 12. I rode home on a bike with my mates like when I went to school. It was like E.T."
The band said they kept their schedule clear so they could follow the games.
Rhys said: "We used to cancel gigs to go to Wales games and then they would lose, so it's really incredible to get to experience them together."
Asked whether they thought Wales would progress, Pryce said: "If we don't go through we're not good enough to go through."
Wales fan Owain Whittaker, 31, of Swansea, went to the gig.
He said: "I enjoyed it. There were lots of people there from Wales enjoying themselves and a nice atmosphere."