'Thousands' paid to phone scam fraudsters in Wales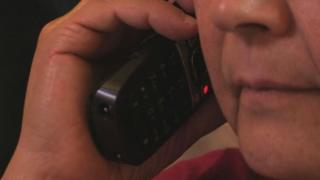 People have been told to be careful after a series of telephone scams across Wales.
Gwent Police said it had received calls reporting fraudsters claiming to be from the HM Revenue and Customs.
North Wales Police said a man had been pretending to be a senior officer and phoned people in Flintshire saying police were investigating suspicious activity on their bank account.
Both forces reminded people to report any incidents of this nature.
Gwent Police said an 83-year-old woman in Abergavenny, Monmouthshire, had been convinced she was facing prison for not paying tax and was told to buy thousands of pounds worth of vouchers.
They have now been seized by officers, who said the woman was "distressed and upset".
North Wales Police said some victims had handed over thousands of pounds, and inquiries are ongoing.