'Brexit' biscuits, beer and tea trademark bids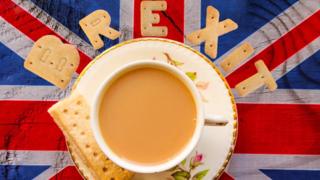 'Brexit biscuits' are just one of a flurry of new brands entrepreneurs are trying to trademark since the vote to leave the EU, it has been revealed.
The Intellectual Property Office (IPO) in Newport has also received requests to trademark a Brexit beer by a London brewery.
A third bid is for an 'English Brexit Tea' from a German manufacturer.
The IPO - which used to be called the Patent Office - must now advertise the applications in case of objections.
The bid for the biscuits was lodged just days after the referendum on the European Union by a baker in Abergele, Conwy county.
Anita Smith wants trademark protection under the "baked goods and biscuits" category.
There is a two month period for third parties to object to any trademark application.