Letters from William James at Battle of Little Bighorn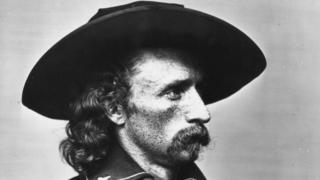 Letters from the only Welshman to fight at the US Battle of Little Bighorn in 1876 have been rediscovered.
Sgt William Batine James, from Pembrokeshire, was a member of the 7th Cavalry which was slaughtered in the bloody battle in Montana.
Fishguard reporter Mike Lewis found the correspondence Sgt James wrote to his brother.
He will take them to the Little Bighorn Battlefield monument next month.
The 7th Cavalry were led by Lt Col George Armstrong Custer who died on the battlefield with many of his troops.
More than 260 US soldiers were killed in combat and it was an overwhelming victory for the Lakota, Northern Cheyenne and Arapaho tribes - led by famous warriors such as Crazy Horse and Chief Gall - during the US government's attempt to claim the Black Hills region.
Sgt James, who was raised at Pencnwc Farm in Dinas, emigrated to North America in March 1871.
He joined the US Army in Chicago in February 1872, before his bloody end at the Battle of Little Big Horn.
But he kept his enlistment a secret from his family, which Mr Lewis believes was "to stop his mother from worrying".
Mr Lewis, who works for the County Echo in Fishguard, found the letters by Sgt James to his brother John Clement James among archives in Pembrokeshire.
He said the letters were "a good example of the thoughts of a newly arrived immigrant" who went on to fight in one of the famous battles.
In one letter, Sgt James asked his brother John for a loan, saying: "I hope I shall be able to pay back soon if you can spare me some."
In later correspondence, he becomes increasingly frustrated at not receiving a reply from his sibling in Wales.
The collection of letters also shows Sgt James's family were searching for him more than 30 years after his death.
During his visit to the battle site in October, Mr Lewis plans to present copies of the letters to Cindy Hagen, the curator of the museum at the Little Bighorn Battlefield National Monument.
Although the letters show Sgt James sent a photograph of himself to his brother in Pembrokeshire, there are no known images of him.
Mr Lewis said finding one would be "the missing part of the jigsaw", adding "I believe there is an outside chance a photo of him will come to light".
While Sgt James's last resting place remains a mystery, several of his comrades were slaughtered at Deep Ravine, which Mr Lewis plans to visit.