Poppy Appeal: Buildings across Wales lit up in red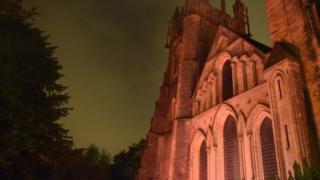 Historical and landmark buildings across Wales have been lit up red to mark the launch of the Poppy Appeal.
The Royal British Legion said there would be a series of events ahead of Remembrance Sunday on 13 November.
LLandaff Cathedral in Cardiff is among 30 buildings which were lit up, as well as all Cadw-owned sites across Wales.
Antony Metcalfe of the Royal British Legion said it "was important to remember there's a new generation that needs your support".
This comes as the charity asked people to recognise younger veterans and serving soldiers as Remembrance and the poppy were commonly associated with with older, World War Two veterans.
Buildings which will be lit up until Remembrance Sunday include Conwy Castle, St Mary's Cathedral, Wrexham, Aberystwyth Castle and war memorial, the Senedd and City Hall in Cardiff.
The charity said this was a mark of respect to commemorate the 100th anniversary of Battle of the Somme and the 4,000 men from The 38th (Welsh) Division who were killed or injured at Mametz Wood in World War One.