Tidal lagoons could eventually transform UK coastline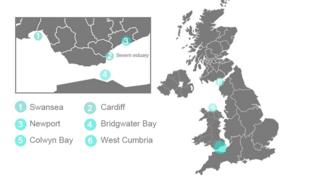 While Charles Hendry's review has been looking at what tidal lagoons might mean for businesses, jobs, climate change and the environment, Tidal Lagoon Power (TLP) has been developing plans for the next decade.
As well as Swansea, a "fleet" of five other lagoons around the coast of Wales, Somerset and Cumbria are envisaged, generating enough power for 30% of the UK's homes.
Mr Hendry is keen to see how the Swansea lagoon works first before embarking on a far bigger scheme.
He also wants to see competitive tendering for future projects "to deliver the most substantial cost reductions", similar to the nuclear industry.
But he was equally keen to emphasise that tidal lagoons "at scale" could deliver low carbon power in a way that is very competitive with other low carbon sources.
TLP is already looking beyond Swansea. So what might this look like - and what does it involve?
CARDIFF
The plans for a lagoon in Cardiff have already been submitted to planning officials.
Cardiff council, although it would not make the decision on the plans, has been told the lagoon could create 1,000 permanent jobs and be of "international significance".
A full consent order is expected to be made in 2018.
It aims to take advantage of the sheer power of the Severn estuary and harness the second highest tidal range in the world.
The Cardiff project is much bigger than Swansea and would be the first full scale lagoon. In fact the plans are for it to be so large - a potential installed capacity of around 3GW - that it would generate enough electricity for every home in Wales.
Its breakwater wall would be twice the length of Swansea's, running to 11 miles (18km).
It would be expected to provide work for 3,000 construction workers with the potential, according to TLP, to sustain 8,000 jobs in the supply chain.
The company argues that because the Cardiff project is so much bigger, the electricity generated would be the cheapest electricity of all the new power stations in the UK.
COLWYN BAY
Tidal Lagoon Power says that the Colwyn Bay project would not just generate electricity but would also protect the north Wales coast from flooding.
Winter storms in 2013/14 significantly damaged the coastline and TLP argues that a Colwyn Bay tidal lagoon would act as protection to people living along the north Wales coast.
NEWPORT
Plans for the Newport lagoon are at a relatively early stage.
If given the go-ahead it would include conservation and restocking programmes and generate enough electricity for 500,00 homes.
As with the other sites, TLP has been holding numerous meetings with the local community.
The total cost could be £7bn.
Until now, while work has continued on these projects, the big question was whether the UK government would support this new way of generating clean energy?
BRIDGWATER BAY
The company is keen to emphasise the environmental sensitivities here, as well as saying that more detailed work is still needed.
It said the lagoon would benefit tourism, local business and contribute to flood management from storms and tidal surges.
WEST CUMBRIA
There has already been a consultation with business, conservation groups an and residents about what would be a "full-scale" lagoon north of Workington.
Emphasising economic benefits and offering more protection against coastal erosion, the West Cumbria project is called a "significant and exciting addition" to the network of planned lagoons.
Reaction: 'End dithering on project'
Until now it has often been said that nuclear power produces the most reliable and cheapest electricity.
Mr Hendry said harnessing the power from the tides through lagoons could change that, as the cost would be spread over 120 years, making lagoons cheaper.
He said in effect the lagoons would be producing electricity free of subsidy for 30 years.
Unlike wind power, the amount of electricity generated by the lagoons would be entirely predicable, he added.
The recommendations have an element of compromise in them in response to concerns from environmental groups.
Addressing concerns that the Swansea lagoon could damage the marine ecosystem, Mr Hendry has recommended that if larger lagoons are built, they still need a go-ahead from the UK government.
There should then be a high level of on-going monitoring of environmental impacts.
Pause for reflection
Mr Hendry recommended a "period of separation" - he told BBC Wales perhaps a year or two - between the Swansea pathfinder and the bigger projects.
"The pathfinder should be commissioned and be operational for a reasonable period before financial close is reached on the first larger-scale project," he said.
"The pause would allow in-depth monitoring to be carried out and research to be conducted to address issues as they arise."