Fragile eye care services harm patients - Healthcare Inspectorate Wales
By Owain Clarke
BBC Wales health correspondent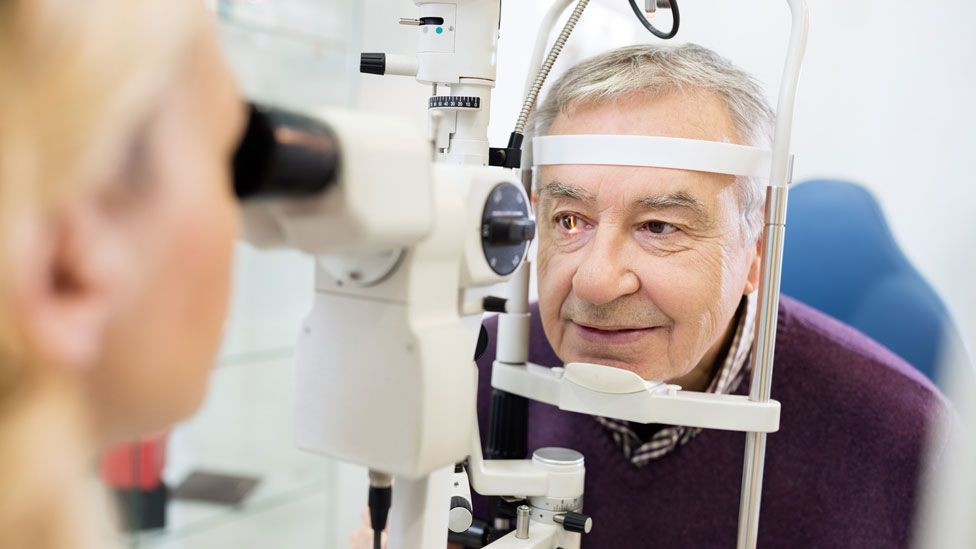 Patients are being harmed because of significant problems in eye care services in the NHS in Wales.
Healthcare Inspectorate Wales (HIW) said ophthalmology services in hospitals were "fragile" and did not have enough capacity to meet demand.
It leads to patient backlogs, breached waiting times targets with potential for "avoidable harm to patients".
HIW looked at wet Age-related Macular Degeneration (AMD), the leading cause of irreversible blindness.
But its report said there were similar failings in treating other eye conditions.
For years, eye care charities such as RNIB have raised concerns that some patients were losing their sight unnecessarily because of delays in accessing treatment.
They said they are frustrated that despite several plans and initiatives these problems still remain unresolved.
The Royal College of Ophthalmologists recommends treatment for wet AMD should start within two weeks of initial referral.
If this does not happen, there is risk a patient could lose their sight unnecessarily.
The review highlights problems throughout a patient's journey:
Referral: Even though wet AMD patients are often seen quickly at hospital - there are occasions when patients have suffered harm as a result of delays in them being seen
Quality of referrals: Despite some improvement this was an issue across Wales - a lack of detail in referral from some optometrists makes accurate triage at hospital difficult
Communication: A lack of communication from hospitals after referral meaning optometrists are reliant of patients understanding of diagnosis
Treatment timescales: The two week target was consistently reported to be a challenge by health boards; performance is very inconsistent and fluctuates throughout the year
Patient demands: A consistent theme is the deficit between capacity available and growing patient demand. The fragility of services appears to be a major risk - mainly due to an over-reliance on individual medical staff causing delays in patients being seen
Follow-up treatment: Most health boards have a backlog of patients resulting in extended follow-up intervals
Environment: Concerns of insufficient space and facilities across Wales in eye clinics
Role of optometrists: They felt under utilised and were keen to become more involved in decision making as well as providing follow-up appointments. Some consultants have lack of faith in ability of optometrist to provide follow up appointments. The report points to a "frosty" relationship
Recruitment: A concern at all levels. Optometrists in north central and north east Wales told us that they routinely sent their 'urgent' referrals to the Abergele eye clinic as opposed to Wrexham because they believed their patients would get seen a lot quicker
Targets: The initial two week target was "helpful" for first treatment - but no set monitoring or ongoing targets regarding follow up care. Welsh Government and health boards need too focus more on patient outcomes
Discharge: Issues around the quality of information and discharge criteria
Concerns were raised by staff within Cardiff and Vale and Abertawe Bro Morgannwg health boards that meeting referral to treatment time targets had been prioritised above clinical need for eye care patients.
"We were told of occasions within Cardiff and Vale, when lower risk patients were actively prioritised for appointment slots above those at higher risk of harm," said the report.
"These decisions had been instigated by management overruling clinical views to prevent lower risk patients from breaching an arbitrary referral to treatment target. If this represents a systemic policy, it would be cause for serious concern.
"Health boards must ensure, insofar as it is possible, that patients are treated according to clinical need."
HIW said the fragility of wet AMD services was a "major risk".
Chief executive Dr Kate Chamberlain said: "Although there has been some innovation aimed at increasing capacity, progress has been inconsistent across Wales."
RNIB Cymru chief executive Ceri Jackson said it was unacceptable that people were losing their sight unnecessarily.
"We acknowledge and praise the commitment and hard work of multidisciplinary teams across Wales, but the fact remains that people are still losing their sight due to delayed appointments," she said.
"It is critical that we address the capacity within hospital eye services to meet current and growing demand."
A Welsh Government spokesman said: "We have a reputation as being a leader in the development and provision of high quality eye health care, this is something we are proud of."
"Since the delivery plan was published a considerable amount of work has been done to move more patients from secondary care to primary care but we agree there is still more to be done," said the spokesperson.
"We welcome today's report and encourage stakeholders to use the findings to improve eye care services for people across Wales."
Related Internet Links
The BBC is not responsible for the content of external sites.