Councils 'exploiting' outsourced care workers, union says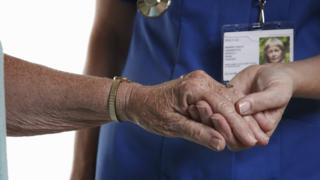 Care workers in the non-profit sector are being "exploited" and are seeing their pay slashed, union Unison has warned.
It has written to every council in Wales requesting a meeting to discuss better funding.
The Welsh Local Government Association (WLGA) said councils are facing a huge social care budget shortfall.
Care Forum Wales said workers' terms and conditions need to improve.
The Welsh Government launched a consultation on pay and conditions for home care workers in January 2016.
The union said "extreme financial constraints" in the non-profit care sector have resulted in the "slashing" of carers' supplements for sleep-ins at service users' homes, holiday pay, bank holiday working premiums and sick pay.
Typically, Unison said, care workers earn the minimum wage of £7.20 an hour.
Unison organiser Lynne Hackett said thousands of carers in Wales are suffering the effects of "in-work poverty."
"If they were directly employed by the councils they would be more fairly paid," she added.
"If care has been outsourced, councils should provide sufficient funding to non-profit organisations to ensure quality care for service users and dignity for the workforce."
'Under-rewarded'
Torfaen, Caerphilly, Bridgend and Flintshire councils have so far agreed to meet with Unison.
The union is also asking councils to scrap 15-minute timed visits, pay homecare workers the living wage and for travel time, and end zero hours contracts.
Mary Wimbury, senior policy adviser at Care Forum Wales said councils should introduce better pay and fairer terms and conditions into their contracts with care companies.
"Care needs have increased but the amount being paid has gone down. Councils are actually perpetuating these conditions by paying fees based on the assumption staff earn the minimum wage."
She said there was a real problem with recruitment, as wages did not properly increase with seniority.
"We all want to see the industry become more sustainable," she added.
"But unless we see an increase in the fees that are paid, it is very difficult for companies to go much above the minimum wage. It is almost a hidden efficiency."
'Desperate'
A WLGA spokesman said demographic trends and an increase in chronic conditions had created a "desperate need" for more funding for care workers.
He added: "The WLGA estimates that local government is facing a cumulative shortfall of nearly £750m by 2019-20. For social services alone, £92m worth of pressures are being faced in 2017-18.
"Clearly the ability to absorb any additional costs is virtually non-existent, and a more sustainable long-term funding solution is needed."
Chancellor Philip Hammond announced on Wednesday a cash injection of £2bn over three years to tackle problems in the social care sector in England - leading to extra cash for Wales under the Barnett funding formula.