Code to protect wildlife around coast of Wales extended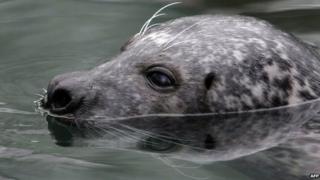 Measures to protect seals, whales and dolphins around the coast of Wales are being extended.
A code of conduct for people on boats, water bikes and on land has already been introduced in Gwynedd and Ceredigion, and is now being adopted in Conwy and Anglesey.
Last May, police investigated allegations a jet skier tried to ram a pod of dolphins off the Gwynedd coast.
The council there has teamed up with fishermen to police the voluntary code.
A similar code was introduced by Swansea council in 2015 to protect sea life along the west Wales coast.
Points in the codes include:
Do not steer directly towards or approach dolphins, porpoises and seals, within 100m (330ft)
Do not discard litter or fishing tackle in the sea
Keep away from cliffs in the bird breeding season - 1 March to 31 July
Catrin Glyn, from Gwynedd council, who has helped introduce and extend the code, said: "We need a code because we have such a rich, diversity of wildlife around north Wales so it's really important to have something in place to encourage people to behave responsibly around wildlife.
"You do get incidents but they are in the minority. Most people do abide by the code anyway. It's just the odd few that need to be aware."
She said the code was broad to encompass wildlife on all parts of the coastline.
"We encourage people to enjoy dolphins because they usually come up to boats, they're quite curious around people.
"But we would like to explain to people that it should be on their terms, not ours."
Ms Glyn said it was hard to police the code because of "scarce resources".
But she added: "We've joined up with fishermen around Pen Llyn because they're obviously on the water for a large period of time.
"They can be our eyes and ears, so if they see something they're not happy with they can report it to the authorities or tell us."
Aberconwy AM Janet Finch-Saunders was one of those who called for a code to protect Angel Bay seals in Conwy.
She said: "We are fortunate enough to witness hundreds of grey seals returning each year to their home in Angel Bay by the Little Orme.
"A voluntary code of conduct to protect this population from people, water vehicles and enthusiastic dogs would go a long way to ensuring their safety, especially during the pupping season, when the younger ones are especially vulnerable to passing boats."