Newspaper 'brand trashing' fears flagged by Lee Waters AM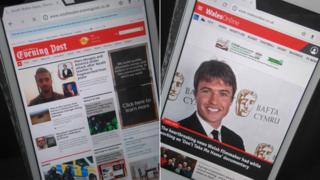 The merger of two of Wales' commercial news websites risks "trashing" well-established brands, according to Labour assembly member Lee Waters.
The South Wales Evening Post website has been scrapped, with its journalists now publishing on Wales Online.
But the Evening Post's editor said the change would offer a "much-improved" experience for audiences and advertisers.
Both brands are owned by the publisher Trinity Mirror.
The media group operates many of Wales' newspapers and their websites.
Llanelli AM Mr Waters sits on the assembly's culture committee, which will investigate the news industry later this year.
"I think there's a real danger that we are trashing well-established, trusted brands," he said.
"The Evening Post has spent generations building up credibility. I am a former Evening Post newspaper boy and people trust what they read.
"There is a real danger, in trying to shift this into a different setting which is a Wales Online site, that they will lose audiences and they will lose credibility with those audiences, all in search of clicks."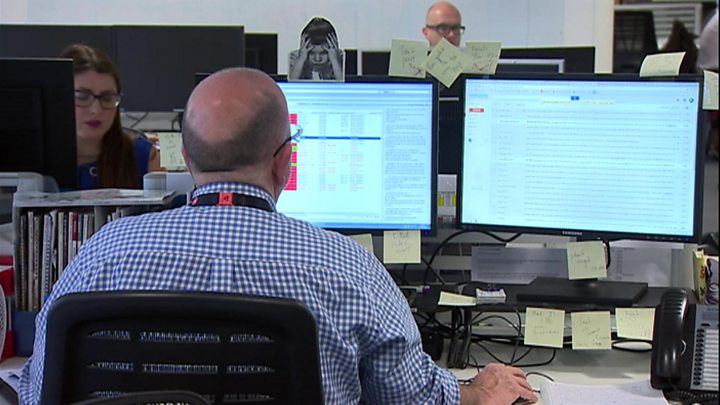 Stories generated by the South Wales Evening Post news team will now appear on the Wales Online website, while the Post's social media presence has been re-branded Swansea Online.
The Evening Post newspaper is not affected by the changes.
Editor Jonathan Roberts said the online merger would be better for its audiences.
"The South Wales Evening Post news team is now going to join with our colleagues at Wales Online and will become one editorial team serving the whole of Wales.
"The Swansea site will now merge into Wales Online, which is a bigger and better website and will provide a much-improved user experience for our audience. So we are pretty excited about it."
Mr Waters sits on the assembly's culture committee, which will investigate the print and digital news industry later this year.
He said: "I think it's right that politicians do get involved, because this is ultimately about accountability and power. But we also need to recognise that we don't have any easy answers to this."
What the Evening Post are doing was "understandable", he said, but added he was concerned about the "quality" of the news and journalism.
But Mr Roberts said Wales Online's "phenomenal growth" meant audiences in south west Wales would be better served by the changes.
"I think if you look at Wales Online, it is a success story in its own right. Its growth over the last decade has been phenomenal, really.
"What you have is a digital brand for a digital audience. Its print products that are produced in Cardiff - the Western Mail, the South Wales Echo, the Wales on Sunday - those brands continue to retain a strong profile within the industry, within the country and within the minds of readers. So no, I don't see any dilution of the brand necessarily.
"It's a digital brand for a modern-day audience."
Trinity Mirror said the merger decision was designed to create a "thriving digital Welsh news brand" and "will have no negative impact on any of our print titles".
A spokesman for the media company said it would protect the quality of its journalism and added: "The regular audience figures we have for Wales Online shows that this is a trusted brand, and people are going there time and time again because it is a reputable source for news in Wales.
"We are investing heavily in journalism in Wales and the transition of the site into Wales Online will free up more resources for capturing the stories that matter to people.
"There's going to be an increase in our coverage of the region, not less."