Bid to 'move' Pen y Fan with 1,000 performers dancing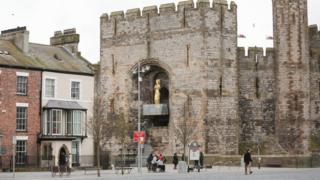 Artists want volunteers to help "move" Pen y Fan, as part of a project to create Wales's largest living art installation.
Theatr Brycheiniog from Brecon, Powys, want to choreograph 1,000 people dancing simultaneously on the side of south Wales' highest peak.
They believe the rippling effect would give the impression from afar, that the mountain was dancing.
It would be unveiled during this year's "Get Creative" weekend on 7 to 9 April.
Different organisations urge people to do something creative, with the centrepiece of last year's event a giant statue of Shirley Bassey in a Boudicca pose on the walls of Caernarfon Castle.
Artist Phil Williams said: "Creating a large scale installation of bodies in motion, we will literally be moving the mountain."