£180k for aggressive brain cancer therapy research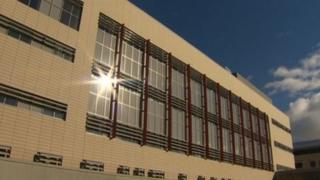 Research into an aggressive brain cancer is to benefit from £180,000 of funding.
Glioblastoma multiforme (GBM) is the most common form of brain cancer and the biggest cancer killer of children and under-40s.
Two PhD students, including one from Cardiff University, have been awarded the money to develop new therapies.
Part of the money is coming from a charity set up by a Haverfordwest man who died from the disease in 2009.
Mike Mason died, aged 55, two years after being diagnosed.
Before his death, he set up the Thorne Mason Trust with his wife Debi.
"Mike and I never imagined that one of us might die so relatively young - we always planned for what we would do together when we were old," she said.
'Woefully underfunded'
Mrs Mason said it was her husband's wish to sponsor a student, with about 1% of national spending on cancer allocated to the "devastating disease".
GBM can invade neighbouring healthy brain tissue and resist drug and radiation therapies.
There is currently no cure.
The research project will be supported by Brain Tumour Research (BTR) and Cancer Research Wales.
With less than 20% of those diagnosed with a brain tumour surviving past five years compared with an average of 50% across all cancers, BTR's Kieran Breen called the area "woefully underfunded".