Milk theft and no radios: Policing Gwent in the 1960s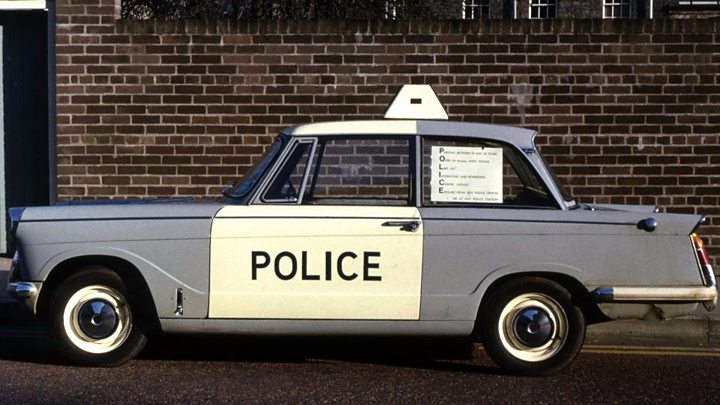 Gwent Police has been celebrating its 50th anniversary this week, marking the merger in April 1967 of Newport Borough Police and Monmouthshire Constabulary. It was part of a government decision to reduce the number of police forces in England and Wales.
A lot has changed in that time, as these retired police officers recount.
Derek Allsopp
Age: 79
Rank: PC
Derek Allsopp joined Newport Borough Police in 1960 and said he never went in a police car for the first seven years - all his work was carried out on foot.
"We had a whistle, truncheon, handcuffs and notebook - that was it. There was no radio so if you had a violent suspect you'd think twice.
"There were small police pillar boxes at the end of some roads where you had a phone and you'd have to call in to the sergeant at arranged times or we would meet up there.
"If you were needed urgently, a flashing light on the top of the pillar boxes would go off so you'd have to keep an eye out for those when you were patrolling. And if you arrested someone, you'd have to manhandle them to a pillar box to call for back up.
"The most common crimes back in the early days were the theft of milk and coal - you used to get a lot of that going on."
Nina Allsopp
Nina Allsopp, who has been married to Derek for more than 50 years, said life could be tough married to a police officer - and she herself was vetted by the force to make sure she was suitable wife material.
"In those days they didn't have the communications of today so they would come out and flash a torch into our windows at night if Derek was needed.
"The number of meals that were just thrown on the fire... We wouldn't see him.
"You knew what you got into when you married the policeman - it was their life. But the money was really bad back then - we would have to make do and mend as the money wasn't there and we weren't allowed to take in a lodger to help with money and the policeman couldn't take a second job.
"I had to get permission from the force to get married. You had to be vetted to make sure you didn't have any criminals in your family.
"And we could never tell anyone we were married to a police officer because they would always say 'don't tell her, she's married to a policeman'."
Lynfa Strong
Age: 65
Rank: WPC
Lynfa Strong was a WPC - as women police officers were known then - between 1971 and 1972.
She said back then as soon as a woman had a child, they did not continue to work in the police.
Her time in the force was also frustrating as she did not get to do the same jobs as her male colleagues.
"The job was different then. The police women then didn't have such an active role.
"They wanted us to do all the clerical work. Also if there had been a crime involving a woman with children, for example, you'd have to look after the children while the male police officers went off doing the investigation work.
"I remember having to do that as a 20-year-old without children, even though I worked with a lot of men who were fathers and would have had more experience of children than me.
"I didn't have equal pay and there were a lot of shock tactics from the men - they would leave explicit pictures on your desk to try to shock you."
Cyril Waters
Age: 90
Rank: PC
Cyril Waters joined Newport Borough Police in 1951 and said the merger with Monmouthshire Constabulary was "terrible" at first.
"We thought we were better than them, they thought they were better than us.
"Eventually it worked itself out and things gradually began to alter. It was all banter really and we all became friends."
He retired from Gwent Police in 1993 and said: "I didn't miss the job, I missed the people."
Roy Ellis
Age: 78
Rank: Superintendent
Roy Ellis joined Monmouthshire Constabulary as a PC in 1959 and said it was the bigger of the two forces that went on to become Gwent Police. Monmouthshire had about 500 officers in 1967 while Newport had about half of that.
"The Newport people thought it was a takeover as we were the bigger force.
"One of the things for me was that Monmouthshire was very rural policing - we didn't really handle many prisoners. Suddenly I was in Newport and there were 20 prisoners in the cells. It was a much more heated environment.
"Saying that, I think we were better all-rounders in the rural areas because we did everything. In the country, if we had a suspect in the night we had to ring the super in the middle of the night. But that changed when we merged."
Bill Davies
Age: 79
Rank: PC
Bill Davies joined the police force in 1959.
"Back then the locals loved and respected the police force.
"When we were on the beat, we always knew which houses and cafes we could nip to for a cup of tea."
One of his favourite memories was when he was in the back of a fish and chip shop eating curry and chips, when his helmet fell off into a large saucepan of curry. "Try hiding that from the sergeant!"
Brian Clarke
Age: 86
Rank: PC
Brian Clarke, who joined the police in 1952, said some of his fondest memories were spending time with the community.
"We would have two officers on each patch, one for the day and one for the night.
"We lived in the area and knew the locals very well, even when we were technically off shift we never were. I loved my job because people always needed my help."
John Watkins
Age: 82
Rank: Sergeant
John Watkins joined Gwent Police in 1967 and remembers the Miners' Strike between 1984 and 1985 well.
"Whilst on strike, men and children would secretly mine for coal to keep their families warm through the winter.
"When they were caught by police they would leave their tools behind and run, we confiscated a whole cell full of mining tools which were later sold off on auction."
Robert 'Bob' Hallett
Age: 74
Rank: PC
Bob Hallett joined Gwent Police in 1967 and loved the camaraderie of his colleagues.
"We were always having fun, we would do anything for each other.
The highlight of his career was finding two boys who had stolen items from a local shop and had been in hiding for two weeks.