Rhys Ifans backs Shelter Cymru's homelessness campaign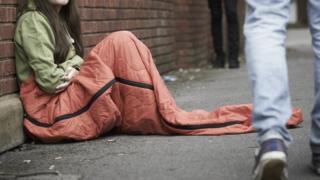 Hollywood actor Rhys Ifans has launched a campaign encouraging people to help tackle homelessness.
The Shelter Cymru drive aims to stop the stereotyping of rough sleepers and help those at risk seek housing advice.
More than 15,000 people become homeless in Wales each year, the latest YouGov survey for the charity suggests.
The Twin Town actor said: "People need to understand that homelessness is something we can all do something about."
The campaign, called 7 Ways YOU Can End Homelessness, prompts people to report empty houses to councils and lobby landlords to accept tenants on benefits.
It will also offer advice to rough sleepers.
The survey found that in 2017, 26% of people in Wales said they knew someone who had struggled to afford housing in the past five years.
It also found 35% of people said they wanted to help rough sleepers but did not know how.
Ifans, who was named campaigns ambassador for housing charity Shelter Cymru in December, said the campaign would teach people how to signpost housing troubles to family and friends.
"I find it shocking that every year in Wales more than 2,800 children have to go through the trauma of homelessness," he said.
"This should not be happening in the 21st Century."