Road campaign to cut number of horses and riders killed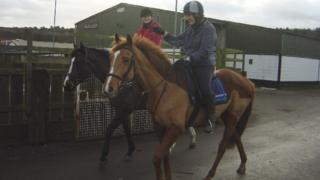 Awareness rides are taking place to try and cut the number of people on horseback injured or killed on roads.
The Pass Wide and Slow Wales campaign has collected 1,300 signatures on the assembly's e-petition website.
It wants an annual road safety awareness campaign explaining to motorists how to react around horses.
The British Horse Society found that since 2010 there have been 2,000 road accidents in the UK, with 1,500 because of cars passing too closely.
As a result of these, 180 horses and 36 riders have died.
Awareness rides were planned for Penarth, Vale of Glamorgan, Swansea, Neyland in Pembrokeshire, Machynlleth, Powys, Flintshire and Porthmadog in Gwynedd.
Any petition with over 50 signatures is considered by a committee to be debated in the assembly.