Manchester bombing Wrexham vigil heckler sentenced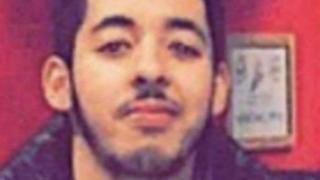 A 49-year-old man has been sentenced to 14 weeks in prison for shouting obscenities during a vigil in Wrexham for the victims of the Manchester bombing.
Steven Barry Ellis was arrested for public order offences on Friday.
He appeared before Wrexham magistrates on Saturday.
Supt Rob Kirman said: "The immediate sentencing of this man demonstrates that this type of behaviour will not be tolerated in north Wales."
Bomber Salman Abedi killed 22 people when he blew himself up as the victims left an Ariana Grande concert at the Manchester Arena on Monday.
A total of 11 people have been arrested in the UK, including Abedi's 24-year-old brother Ismail, but two were later released.
Meanwhile, US singer Grande has said she will return to the "incredibly brave city" for a benefit concert.