Staylittle: Village cut off from web finally gets online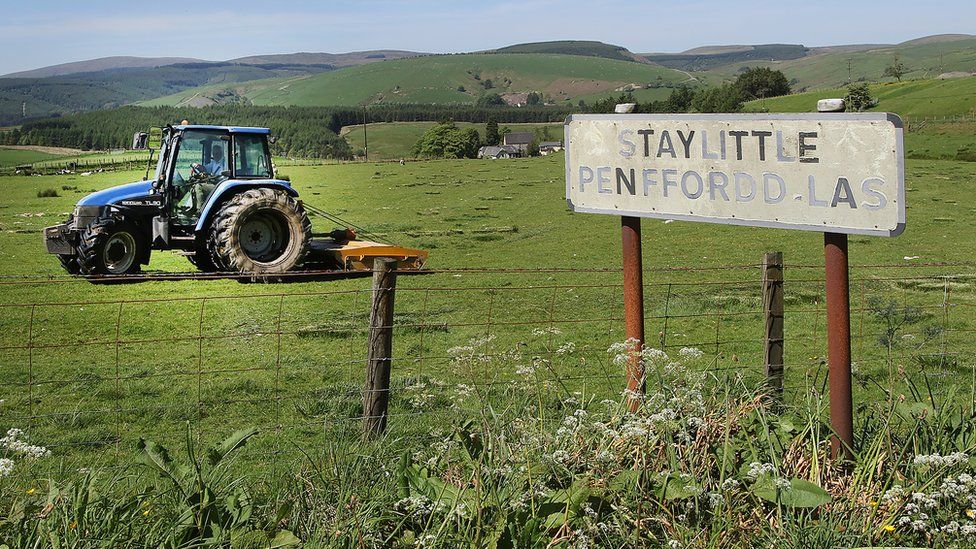 In an age where you can email from your phone or catch up on TV while waiting for a bus, one village has remained in the "dark ages" with no mobile phone or broadband internet.
But Staylittle in Powys finally has a permanent mobile phone mast - which residents say will be life-changing.
When mother-of-two Becky Williams moved to the remote Welsh village it was a dream come true.
She moved to an idyllic small-holding from the Midlands with her husband.
But she was not prepared for the complications which came with the move five years ago.
That is because Staylittle, near Newtown, had no mobile connectivity or broadband internet.
She said: "We live in a stunning, beautiful place but it was in the dark ages. It was a complete nightmare having no mobile signal, and even worse when the landline went down too.
"In the midlands we had broadband and mobile coverage everywhere, but here we have never had mobile signal."
It may sound trivial, but for Mrs Williams, who has two young children and a husband who works abroad half the year, it was isolating.
Staylittle - Penffordd Las in Welsh - is remote, with the nearest market town almost eight miles (12km) away.
Some who live in the village had no mobile phone or reliable internet connection, making life complicated for its 140 residents.
When Mrs Williams bought an online designer children's clothing business last year she would drive to a spot a 10 minutes from the village to check her phone messages twice a day, and while at home relied on slow and expensive satellite internet.
"I had to drive down to my mother's house in town to work every day," said Mrs Williams. "I have got a one-year-old son and it was a complete pain having to cart him down to my mother's and do all my business through emails.
"Our six-year-old daughter, Lilly, likes horse-riding and I used to worry so much about her having an accident and the lines being down, as how would I have contacted somebody?"
But last month, a permanent 4G mast was finally installed on a hill overlooking the village - giving mobile coverage across Staylittle.
Mrs Williams said: "Now I work from home, which has been amazing. I'm going to be able do online shopping, which I couldn't do before because the satellite connection would go down in the middle of my shop."
David Penn, 74, said house sales had fallen through in the village once potential buyers realised there was no broadband connection.
"It is one of the utilities people expect now, along with electricity and gas," said Mr Penn.
"Every single organisation under the sun assumes you are online now - if I want to find out about a special offer or sign up for something it has to be done on the internet.
"Instead all we had was a phone line which we had to share between a number of houses - you could hear your neighbour talking on the line sometimes. On other occasions I would be talking to my 98-year-old mother and then the line would go dead as someone from another house started dialling."
Mr Penn is secretary of the Staylittle Community Association, which has been campaigning for the village to have a broadband internet for the last three years.
He said there have been previous failed attempts to get the village online, including one by a BBC programme the Big Life Fix.
"The landline connection itself is unreliable," said Mr Penn. "We have been very lucky that there hasn't been any real emergencies in that time, but since the mast has been put up two people have had strokes and there has been an broken ankle so there have been some 999 calls."
O2, which installed the mast in the village, said it will be erecting 4G masts at a further 395 Welsh villages by the end of the year.
But despite Staylittle's access Mr Penn admitted he was yet to get online.
"I'm still not quite sure how I get my computer connected to the internet," said Mr Penn. "I know some people have managed it, but it is an 120-mile round trip to the nearest O2 shop from here to get the bits and pieces I need, so I will get around to it at some point.
"Those who are connected are are holding on to their BT landlines for the moment as they are worried it is too good to be true."