Shared parental leave: What is it like for the father?
This Father's Day some might reflect on the role they play in their children's lives. Some fathers have started to play a more active part than they would have traditionally due to shared parental leave, which was introduced in 2015.
University IT worker Tom Green, 37, from Cardiff, is among them - but what are the challenges of going on paternity leave for six months? And how are they different to those faced by mothers?
I think maybe the biggest mistake I made was on my first day as my son Sam's primary carer.
I made bread, did the washing, looked after Sam and tried to appear like I had everything under control. But I had gone too far. I was exhausted.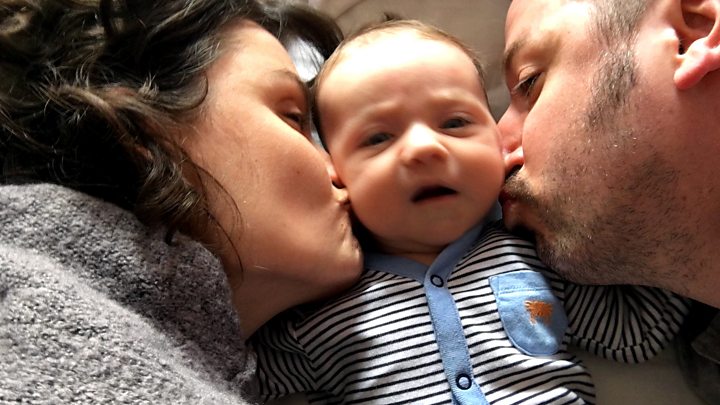 It was a rude awakening to what being a stay-at-home dad would be like.
My wife, Deb, told me to calm down and just try to concentrate on Sam rather than trying to be this ridiculously wonderful husband and father.
We have always had an equal relationship, so when we made the life-changing decision to have a child, we both decided we wanted to share the responsibility for that too.
For us that meant sharing Deb's maternity leave. It wasn't plain sailing though - we had to work out what was the best way of doing it and, for us, that ended up coming down to finances.
It was best for Deb to take the first six months because she received enhanced maternity pay from Cardiff University, where she was a lecturer. Then I took the next six months - when her income would have dropped down to statutory maternity pay - the same amount I would get for being off.
All that was left was for me to tell work our plans.
Before I told them, what I struggled with was that, as a man, traditionally your work would have been more important. But Deb has always refused to be limited because she is a woman and I realised I shouldn't feel unable to look after Sam because I'm a man. I learnt that I needed to embrace it in a way, and not see our roles as masculine and feminine.
But I worried about the effect my absence would have at work, and I was nervous about how they would react. Even though women take maternity leave this is accepted as the norm, I was the first person to take shared parental leave in my part of the university, so it was unusual, but my employers were very supportive.
I work in quite a small team and it was going to be quite a big hit to them to have someone suddenly off, but it turned out they could get cover just like maternity leave gets covered.
Some colleagues said it was great to see me doing it, but one told me he felt like I was leaving them in a bit of a pickle. I found it quite hurtful as he wouldn't have said that to a woman.
When Sam arrived Deb had settled into a routine with him, breastfeeding and looking after him in the day.
But I didn't quite realise how much pressure was on her. I would work late sometimes, and she would phone me up at 17:00 and ask why I hadn't left yet.
I didn't realise the extra half an hour or hour I was at work, Deb was at home thinking: "I need help now, I've had an upset grumpy baby who I can't put down for naps, please come and help me."
It took being on parental leave myself to see that side of the coin.
Find out more
Tom and Deb's story on BBC Radio Wales' Eye on Wales programme
Government website on shared parental leave, which covers eligibility and pay
The Acas website has a detailed look at shared parental leave, including forms to request it
As we were splitting the parental leave with no crossover it also meant we pretty much had a hard switch - I finished work and Deb went back to work at the same time.
I thought Sam would just see a seamless transition in care when I took over, but, with hindsight, it must have been hard for him suddenly having me there with this bottle and no mum in sight.
I quickly realised looking after a child is not just going to parks and coffee shops.
It was a full-time job just looking after Sam. Anything extra, like housework, was difficult to fit in.
And although I would go out to places for coffee it wasn't relaxing - I was always watching Sam and making sure he didn't have a dirty nappy, was fed at the right times and safe. So it was mentally tiring as well as physically.
Sometimes Sam just wanted mummy. Having him push me away was a difficult thing to handle, but I had to take a deep breath and think it is just that he needs mummy at that time.
I hardly saw any other dads when I was off. If they were at baby classes I attended they were normally only there for a week to cover for the mum.
I met one other full-time-dad right at the end of my leave. He had just moved to the area and didn't have a job yet so was looking after the child.
He was really struggling to break into the mum cliques to talk to other people.
And I also found one of the toughest parts was trying to drum up a conversation with mothers. I sat next to at the music and sign language classes I took Sam to. It was hard to find common ground sometimes. But I never went to a class thinking "oh I wish there was a dad here I could talk to about football".
It took them a few weeks to realise I was the main carer, and they were surprised.
Thankfully the NCT group we were part of were really welcoming to me, and accepted me as one of them even though I was the only father in our group to take shared parental leave.
Although they talked about childbirth and breastfeeding sometimes, at other points I could give a man's point of view on some things.
It must have been hard for Deb, although she has never shown resentment about sharing her leave with me, it must be there as she did miss out on some milestones.
One time I took Sam to the park and put him in a swing, not really registering that it would be his first time. I sent a photo to Deb and she was upset because she had wanted to see him on the swings first, not in a photo.
He also crawled for the first time with me, but I had learnt from the swing incident, so instead of telling her just let him do it in front of her that night. Then I owned up that he had done it that day.
I realised I had to work out when to send her photos and videos and how much, as I didn't want her feeling like she was missing out all the time.
Looking after Sam full-time took its toll physically on me and I ended up getting carpel tunnel syndrome - a tingling sensation in my hands - from carrying him around for quite a few hours a day.
But I got to see him become his own little person, and watching him start to crawl is one of the moments I will cherish.
And it has been good for mine and Deb's relationship because now I appreciate the emotional and physical strain it can be to look after Sam full-time too.
We have had to take a financial hit for me to do this, but shared parental leave has allowed me the time to see Sam develop, and spend time with him.
I went back to work last week and am enjoying using my brain to solve research problems, rather than trying to work out how to get a dirty nappy off a baby crawling around the room.
But I would definitely do it again if we had another baby and could afford it. Sam is becoming his own little person and I have helped him to do that.