Mental health sport project ends with football event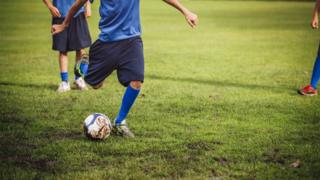 A project which has tackled mental health problems with sport is culminating in a football tournament.
It was launched after research showed people with mental health issues are unlikely to consider themselves sporty or exercise.
Weekly sessions have been taking place at Merthyr Town, Newport County, Newtown and Wrexham as part of the "We Wear the Same Shirt" project.
Running since November 2015, it was given £104,000 by Sport Wales.
One aim was to develop team spirit and encourage participants to open up to coaches and other players.
'Social interaction'
Led by mental health charity Time to Change Wales, it cited research showing 28% of people with such problems considered themselves sporty compared to 52% of those with other impairments.
This leaves them with twice the risk of developing diabetes, three times the risk of dying of heart disease and with a life expectancy 20 years shorter.
Lowri Wyn Jones, of Time to Change Wales, said: "The most important achievement of the sessions has been the communities that have formed in each club's session, as social interaction and regular patterns in routine can be crucial for someone with a mental health problem."
The tournament on Sunday has been taking place at the Football Association of Wales Dragon Park in Newport.