Barry Island railway museum site trashed by vandals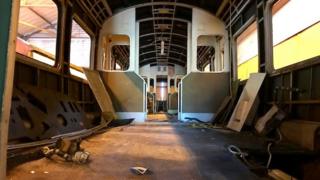 Vandals have caused thousands of pounds worth of damage at the site of a proposed railway museum which could delay its opening.
Thieves broke into the building near Barry Island railway station, Vale of Glamorgan, and stole railway artefacts during two attacks in the past week.
They smashed windows and windscreens on rail and road vehicles and threw paint over them.
Manager John Buxton said: "It does make you think, 'shall we continue?'"
He added: "But I am a pretty determined person. We'll persevere and the police are on the case."
Mr Buxton said Barry Rail Centre had planned to open the site on Plymouth Road on 5 August as a museum documenting the town's railway and war history.
It will expand the work at the existing museum at Barry Island railway station and will include a large model railway, along with train and war exhibits telling the story of the expansion of the docks and the role Barry residents played in the two world wars.
It also plans to run a small steam engine shuttle service from the station to the seafront.
But he said the break-in and damage would set the operation, run mostly by volunteers, back significantly as they need to repair the damage and make the building secure again.
"This is not the only vandalism attack. We've had several this year and we've had some rail stock damage and graffiti," he said.
"It's a bit of a mess but we're cracking on with it."
Mr Buxton said police were investigating and forensic officers had been at the site to check for fingerprints.
He hopes the museum will be able to open later in the year.