Finsbury Park attack: Son of hire boss held over Facebook post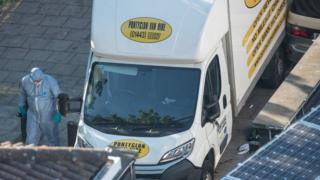 A man has been arrested on suspicion of posting an offensive Facebook post about the London Finsbury Park attack.
Police said a 37-year-old, believed to be the son of an owner of the Rhondda Cynon Taff company whose van was used in Monday's attack, is in custody.
Richard Evans allegedly posted: "It's a shame they don't hire out steam rollers or tanks could have done a tidy job then."
His father, Lee Evans, said he condemned the remarks.
South Wales Police said a 37-year-old man was being held on suspicion of displaying threatening, abusive, insulting written material with intent that is likely to stir up racial hatred.
Comments made by an account under the name of Richard Gear Evans Facebook, which were then shared by others on Twitter, read: "Glad I'm not running the van hire the police wouldn't like what my answer would be.
"It's my dad's company I don't get involved it's a shame they don't hire out steam rollers or tanks could have done a tidy job then."
The comments and account profile appear to have since been deleted.
Lee Evans said: "I want to condemn in the strongest possible terms these ill-considered Twitter comments, which in no way reflect my own view or indeed those of anyone else in the family.
"The attack in Finsbury Park was shocking and cowardly. Together with all the staff at Pontyclun Van Hire, I am doing everything I can to assist the Metropolitan Police in their inquiries."
Darren Osborne, 47, from Cardiff, is being held on suspicion of the commission, preparation and instigation of terrorism, attempted murder and murder following the incident at Finsbury Park.
On Tuesday evening, the Met's counter terrorism unit was given an extension until the early hours of Saturday to question Mr Osborne.
The attack in Finsbury Park happened as an ill man was receiving first aid from the public near the mosque, where people had been saying Ramadan night prayers.
The van was apparently driven at people who were helping him.
Police said they were still trying to establish if there was a link between the man's death and the attack.
The man died and nine people were taken to three London hospitals, while two others were treated for minor injuries.
Witnesses said they heard the driver, who was detained by members of the public before police arrived, shout: "I am going to kill Muslims."
One of Mr Osborne's neighbours said they thought they had seen him sleeping in a van on Saturday night.
South Wales Police confirmed that 24 hours before the London attack it had responded to a 101 call following reports of an "insecure van" in the Llanedeyrn area of Cardiff.
Officers found a man asleep inside, but no offence had been committed.