Gwent Police officer jailed for biting man's lip in row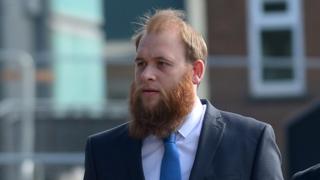 An off duty police officer who bit another man's lip during a row about queue jumping at a bar has been jailed.
Det Con Stephen Smith, 33, from Tredegar, Blaenau Gwent, attacked Jonathan Harris outside a bar in Cardiff when a row broke out.
Jurors were shown CCTV footage of Smith grabbing Mr Harris by the neck, pulling him towards his face and biting him.
He was found guilty of unlawful wounding after a four day trial and jailed at Merthyr Crown Court.
The jury cleared him of wounding with intent and perverting the course of justice.
The trial was told the incident took place before a televised Six Nations clash in Twickenham in March last year.
CCTV footage also showed Smith swinging his arm at Mr Harris before walking away.
Disciplinary hearing
Despite Smith having no bite marks on his face, he claimed that Mr Harris was the aggressor and bit him first.
But when questioned, Mr Harris said: "I would never even think of biting someone. It's an absolutely disgusting thing to do. It's like spitting in someone's face."
Jailing Smith for 12 months, Judge Richard Twomlow told him: "This was a serious incident."
After the hearing, Crown Prosecution Service spokeswoman Deborah Rogers said: "Police officers are expected to protect the public and uphold justice regardless of the situations they find themselves in.
"However, in this instance Smith reacted in a way that led him to be arrested himself."
Smith now faces the sack from the Gwent force after a disciplinary hearing.