Fatal Peru fall Harry Greaves' poems published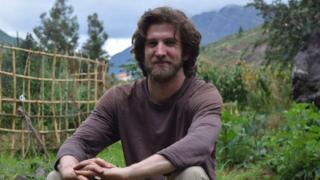 The father of a British tourist who died while mountaineering in Peru has published a book of his son's poems to commemorate him a year after his death.
Harry Greaves, who lived in Wrexham, went on a solo walk to spend his 29th birthday alone in the Andes.
His body was found in a 40-metre crevice on 20 April 2016 and his family believe he lost his footing and fell.
His father Simon, from Bronygarth near Oswestry, Shropshire, later found the poetry on his computer.
"We published all the poems of his that we could find," said Mr Greaves.
"There are 23 in the book. We wanted it to be a celebration of his life."
Mr Greaves will also be holding an event in his field on Saturday which includes a yurt maze to remember his son and nephew David who died five months later from Motor Neurone Disease, aged 31.