Old drawings of Wales' landmarks digitised and put online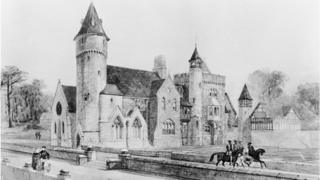 Old drawings of important and historic places in Wales are being brought back into the spotlight and put online.
Almost 11,000 drawings are held by the Royal Commission on the Ancient and Historical Monuments of Wales (RCAHMW), with more being digitised.
It is currently showcasing pictures of the former Old Castle Works, Llanelli, Carmarthenshire, in an online gallery.
A spokesman said its archive of Wales' historic environment was still growing.
The former tinplate works in Llanelli was established in 1866 and expanded early in the 20th Century.
Tinplate manufacturing ceased in 1957 and today its remains include an extensive range of stone and brick built sheds.
Also on show is a reconstructed view of Coity Castle, Bridgend.
The castle was built in the 1100s and is still open to the public.
Coflein, the RCAHMW's online archive, holds over over 1.25 million photographs and 50,000 historic maps.