Cardiff cafe owners sell up to help surfers repel sharks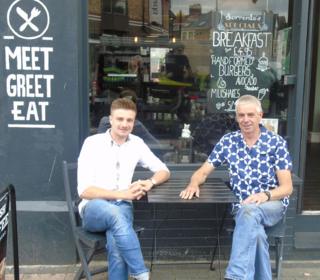 A father and son have sold their two Cardiff cafes to test their new shark deterrent invention off South Africa.
Collin and Simon Brooker are developing a device to create a "halo" around surfers with the synthetic essence of rotting shark flesh in the water.
The chemical is already in use as a repellent but the Podi aims to deter sharks up to three miles (5km) away.
The trials will take the next 12 to 18 months off the Cape peninsula.
The Brookers opened two successful cafes in the student area of Cathays but sold them last summer to raise £250,000 to develop their device.
They were initially going to research off Reunion Island in the Indian Ocean but decided to study shark interactions off the South African coast after a shark scare during a surfing event in July.
SHARKS, SURFERS AND CONSERVATION
Businessman Collin, 59, got the idea when he was living in Queensland, Australia, where shark attacks were an issue.
His son Simon, 26, a Cardiff fine art graduate has developed the design with Maesteg-based firm Creative Engineering.
The principle is to use a synthetic chemical in tablet form in a small, plastic device, attached to a surfboard.
It dissolves in water continually to send out a strong smell that is only detected by sharks and stingrays.
"I knew nothing about sharks or marine life," said Collin.
There are, on average, about five shark attacks each year off South Africa.
The Brookers are hoping their device will help tourism and save sharks from being killed.
They also hope their invention can do less harm to reefs and the wider marine ecology.
"I sat down and said 'how do you control a supposedly wild animal?' You start looking at the senses - eyesight and ultrasonic sound are poor but its most powerful sense is smell."
Collin said the semiochemical is already used but in an aerosol can, which is when the shark is already in attack mode. The idea is for the shark to take flight well before it gets close to humans.
"A white shark can smell perhaps 5km away," he said. "We don't want to scare it and all the defence mechanisms currently are last minute when it's generally too late.
"How do we generate this feeling that it's not safe, the pre-avoidance, what triggers that?
"What's going to get a shark's reaction to the point where it doesn't want to go there? Maybe another dead shark? They're intelligent animals.
"Most wild animals we see as predatory, which they are, need to eat but the prime objective is to survive. If we can trigger something in its brain to say, 'it's not safe,' that's the answer."
Simon added that they wanted something that was light enough for surfers to use and uncomplicated. Eventually they hope the initial device would cost up to £56 (US$80).
"We've been looking at how the device could be housed, something simple to take away human error - it's not mechanical, it's a passive device that constantly works," he said.
The Brookers - who are also launching a surfing products brand to help fund more field work - have also been joined on the project by a neighbouring cafe owner and friend, Jane Fallows.
She has left her daughter to run the family business while she works on the scientific side of the trial.
Jane, who once worked in medical research, will be involved in gathering the data and liaising with scientists in Wales and then joining the trial to work with conservationists and oceanographers.
"I'm interested in the science side, the conservation side, and also gathering all the facts together from the experts there and using that to do the research," she said.
"All the field testing will be done off shore, we'll take a boat out, baiting the water and waiting for sharks to come in and then administering the chemical into the water," said Simon.
Collin added: "We need to look at coastal protection but it's not only protecting the humans, it's protecting the sharks."
The Brookers said sharks were very much part of the eco-system, but where they have been culled, fish populations have grown out of control, which can in turn damage reefs.
"For hundreds of years fishermen have learnt to trawl a dead shark on their nets to keep sharks away- but we're commercialising that," said Collin.
"It's putting it into everyday use but by not using a dead shark anymore but a synthetic re-creation of that."
The Brookers have recently started their first sea trials, which they said brought "encouraging" first results with one of the active ingredients.
A tiny dose cleared a sea area of three shark species for five minutes, while other fish were unaffected.
Eventually, if all goes to plan, the aim is to develop the device for manufacture back in south Wales, with an eye on the surfing and diving market in other parts of the world, if it takes off.