Cut greenhouse gases from Wales 'faster' demand
Greenhouse gases need to be cut at a "much faster pace" after warnings Wales will miss key targets, the environment secretary said.
Lesley Griffiths wants public bodies to take a leadership role, working towards becoming "carbon neutral" by 2030.
She claimed their buying power and the way the sector uses land, energy and transport can reduce emissions.
Last week officials said a bid to cut carbon emissions by 40% from 1990 levels by 2020 would not be met.
The Committee on Climate Change, which advises the UK and devolved governments, reported that carbon emissions in 2015 were 20% lower than in 1990 - compared to 38% for the UK as a whole.
But Ms Griffiths told BBC Wales she would not alter or abandon the target as that "would not show good leadership".
"With three years to go I want to make sure we do hit that target but we need to increase our pace and that is what this call for evidence is about."
She said she wanted to encourage good practice but also that sanctions could be considered "in the round".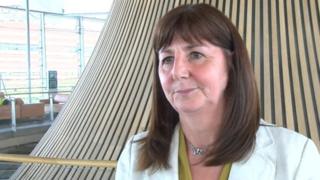 Public bodies and other stakeholders are now being asked for their opinions about how best to achieve a carbon neutral public sector, including whether interim targets should be introduced and how progress should be monitored and tracked.
The Welsh Government said it was already investing over £2m a year to identify and support renewable energy projects and energy efficiency projects within the public sector.
Public bodies in Wales - including schools, hospitals and local councils - account for just 1% of the country's carbon emissions.
The main culprits are heavy industry and power generators, while climate experts claim agricultural businesses and the general public in their homes and cars could also do much more.
However, the argument behind focusing on the public sector is that it is "uniquely placed to influence emissions far more widely", the environment secretary said.
What are carbon emissions?
Every time we burn fossil fuels such as gas, coal or oil , and use petrol and diesel in our cars and lorries, we release carbon dioxide into the atmosphere.
While some of it is re-absorbed by plants and trees, the rest is held in the atmosphere.
There it acts to retain the heat of the sun, ultimately leading to climate change.
The concentration of CO2 in the atmosphere is now higher than at any time in the last 800,000 years.
Wales accounted for 9% of UK emissions in 2015.
It works out at about 14.7 tonnes of carbon dioxide per person in Wales - slightly more than 10 years ago; the figure for the UK as a whole is about seven tonnes and in Scotland it is about 8.4 tonnes per person.
Natural Resources Wales (NRW) - the largest government-funded body in Wales - has been carrying out research about its own carbon footprint and is now starting to implement changes it hopes can be replicated across the public sector.
Alongside a number of other demonstration projects it is introducing electric cars as part of its fleet of company vehicles and installing charging points at some sites.
Work is also being carried out to restore peatland, which can capture carbon and hold it in the ground.
Jennifer Kelly, NRW's Carbon Positive Project Manager told BBC Wales: "We know that we have a wider influence beyond just the buildings and sites that we manages, it's the people we advise and the goods and services that we buy in.
"So we have an opportunity to show leadership and share our learning across the public sector to benefit others."