Crime victims 'to give evidence from home' in Wales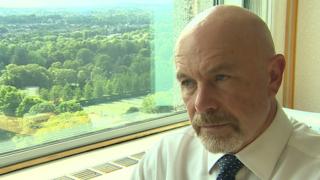 Wales' new chief prosecutor says crime victims could soon give evidence from their own homes.
Barry Hughes, head of the Crown Prosecution Service in Wales, said he is determined witnesses can appear 'virtually' within a year - followed by home video links.
He said in "this day and age" witnesses should not have to travel long distances to give evidence.
He said police officers have already given evidence in court remotely.
"Giving evidence from home is perhaps a little ambitious in the next year, but giving evidence from remote locations is absolutely realistic, and I'm determined to see that happen," said Mr Hughes.
"One of the other big changes is that we're introducing the pre-recording of vulnerable witnesses in sex cases… so that those people do not have to come to court to be intimidated by sometimes more than one defence barrister.
"The legal framework is all in place and that will be starting in Wales in the autumn of this year."
Mr Hughes became Wales' chief prosecutor in June 2017 after similar roles in Cheshire and south-west England.
He said while a 2016 report described a justice system "near breaking point", it was coping.
"We've developed different ways of working over the last five, six years since austerity really kicked in, in 2010," he argued.
It includes closing some of its buildings and reinvesting savings in staffing.
He added while the CPS lost 27% of its lawyers due to cutbacks, it has now started recruiting again.
Sex offender focus
The chief prosecutor said Wales was also leading the way on reducing costs by obtaining more early guilty pleas - cutting court time and legal bills.
"In Wales, almost 50% of people who plead guilty do so at the first hearing. Not long ago that figure was much closer to 25%," he said.
He said because there were fewer cases overall, resources had been moved to deal with a "tremendous" increase in both historic and current sexual offending.
"One of the ways in which we've done this is to have within each CPS area a dedicated rape and sexual offences unit," added Mr Hughes.
"We have prosecutors who are specifically trained and given proper support - this type of offending is sometimes quite traumatic to deal with.
"We've got a much stronger muscle than we used to have in order to deal with what is a growing body of difficult work."