Call for people to invest in community co-operatives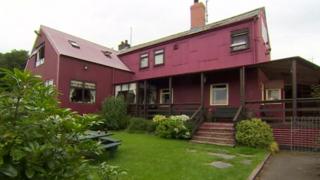 More should be done to encourage people to invest in their local communities, according to a group trying to save a Pembrokeshire pub.
Tafarn Sinc in Rosebush faces closure and residents are meeting to discuss running it as a co-operative.
Cris Tomos, a consultant on community co-operatives, hopes people will buy shares for £200 each and will receive a dividend if the project is successful.
He said this model could help stem the decline in rural areas across Wales.
"There are opportunities throughout rural Wales for communities to take hold of assets and look at ways of making them work, of investing in them," said Mr Tomos, who is also a councillor.
"There could be an opportunity for more tax breaks for people who invest in their communities. There are schemes at the moment, the social investment tax relief, but we could do more.
"Instead of leaving your money in the bank, earning nothing, why not invest it in your local assets - the pub, the shop - and have involvement.
"Be part of it and have ownership of your local activities and make them work."
Ensuring rural areas do not lose their amenities is what drives another project in Cardigan.
Since 2010, 4CG has bought the town's public toilets, car park, former police station and a block of flats.
4CG's founder Shan Williams said: "What we're trying to do here is keep as much of the money people have in their pockets in the local area.
"If we can keep the communal bucket topped up and ideally bring money in from outside, no town in Wales should be poor any more."
The UK government does offer some tax relief for those who invest in social projects.
But according to a group which supports co-operatives get off the ground, making money is rarely what drives people to invest.
Eifion Williams, from Wales Co-operative Centre, said: "We're finding that the main reason for people making financial contributions is that people want to preserve the facilities in their community.
"They're not necessarily looking for a financial return, they want to live in a more vibrant community."