Mental health help for new Welsh mums 'woefully inadequate'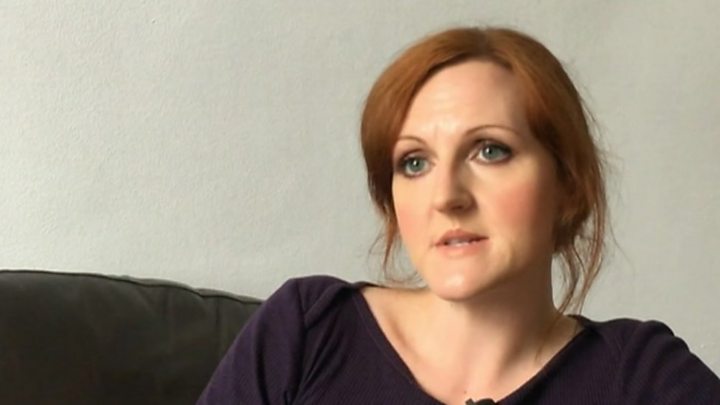 New mothers are suffering in silence due to inadequate mental health support in Wales, campaigners have warned.
In 2013 Wales' only psychiatric mother-and-baby unit (MBU) closed, meaning women have to travel to England.
Charlotte Harding, who developed postpartum psychosis, hid her symptoms as she was frightened her son would be "taken from her".
The Welsh Government said it was investing £1.5m a year in community perinatal mental health.
The body which commissions specialist NHS services, the Welsh Health Specialist Services Committee (WHSSC), is currently considering whether to reopen an MBU.
Public Health Wales estimates between 3,328 and 6,656 new mothers a year will experience a perinatal mental health issue, including severe postnatal depression.
Since the last MBU closed in Cardiff - which had allowed women to be admitted alongside their babies - Welsh women have had to travel to England for inpatient treatment, with some going as far as Derby and Nottingham, or to be treated in an adult psychiatric unit with no contact with their child.
An assembly inquiry heard while improvements had been made, "unacceptable" regional variations in services for mothers still existed and there was an urgent need for an inpatient unit.
Health bodies and campaigners highlighted issues, including:
The lack of an MBU in Wales was increasing stigma and leading to some trying to hide symptoms due to fears their child may be taken from them
Trying to find beds in England is wasting valuable time, funding and resources for the Welsh NHS - with it sometimes taking days
Mothers sent to England do not have access to follow-up psychological therapies when they are referred back to Wales
Medical professionals, including GPs, do not feel equipped to spot or treat maternal mental health conditions
Advice for parents-to-be about post-natal mental health is lacking and needs to be part of antenatal classes
The British Physiology Society said inpatient treatment for mothers was "woefully inadequate" and failed to meet national guidelines.
Sara Moseley, director of mental health charity Mind Cymru, said GPs were not required to have mental health training despite one in three appointments being mental health-related.
She said a lack of advice and joined up care prior and post childbirth meant many women left hospital with "no idea" of the complications they might face after childbirth.
"New mums say that I feel I should be overjoyed, but I am overwhelmed," she said.
Mother-of-two Charlotte Harding, from Cardiff, started experiencing frightening hallucinations and paranoia straight after the birth of her first son five-years-ago.
Charlotte, who was diagnosed with bipolar aged 20, said: "I didn't want to say anything, because I thought, they're monitoring me at the moment, and if I said anything, they would just take my child away."
When she got home the symptoms got worse, and she was diagnosed with postpartum psychosis, a serious mental health condition which affects about one in 1,000 new mums.
But as the MBU in Cardiff had closed she faced being admitted to an adult psychiatric ward with no contact with her baby.
"That was the point that I completely broke down and said I was not going anywhere without my child," she said.
Due to her distress about being separated from her child, Charlotte was treated at home, a process that took over a year-and-a-half compared to the average 12 week stay in an MBU.
Now 30, she still struggles with the condition and believes the reopening of the unit and better training for GPs and health practitioners is critical to help others.
She said: "I feel that the fear of having your child taken away from you is a big fear for these women, so a lot suffer in silence.
"Women need this unit, we shouldn't be parted from our children, it's wrong."
A Welsh Government spokesman said its investment meant every health board now had a community perinatal mental health team.
"The NHS reports more than 2,300 women have been referred to the new community services since last January, and we expect the figures to increase significantly now that services are established across the whole of Wales," he said.
"It's vital that we support mental wellbeing before, during and after pregnancy and that services are available for women who have mental health problems at this important time in their lives."