Urdd chief leaves after staff complaints about leadership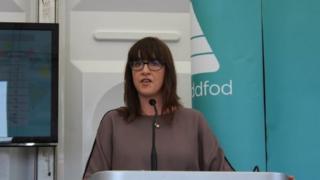 The chief executive of Wales' biggest youth movement has stepped down after staff concerns about her leadership.
Sioned Hughes was appointed less than two-years-ago to lead Urdd Gobaith Cymru towards its centenary in 2022.
But BBC Cymru Wales' Newyddion 9 has learned trustees intervened after staff voiced a lack of faith in her ability.
The Urdd, which has 53,000 members, said she had left after a "mutual agreement". Ms Hughes declined to comment.
There is no suggestion that Ms Hughes had misbehaved or there was maladministration in any way.
In a statement the Urdd said: "Sioned Hughes and the movement had come to a mutual agreement that her employment as chief executive is to come to an end.
"The Urdd thanks her for her service and wishes her well in the future."