Davide Magnini winner as hundreds run Snowdon Race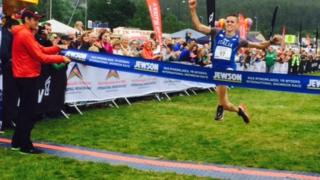 About 600 people have taken part in the 42nd International Snowdon Race.
Davide Magnini, from the Italian team, won the race, with Chris Farrell from England's team coming in second.
The 10-mile race is described as one of the most difficult in Britain, beginning on the edge of Llyn Padarn in Llanberis, before going up to the summit of Snowdon and back down again.
The first race took place 1976 when a Llanberis resident put forward the idea to the village's carnival committee.