Highs and lows as small town sponsors refugee family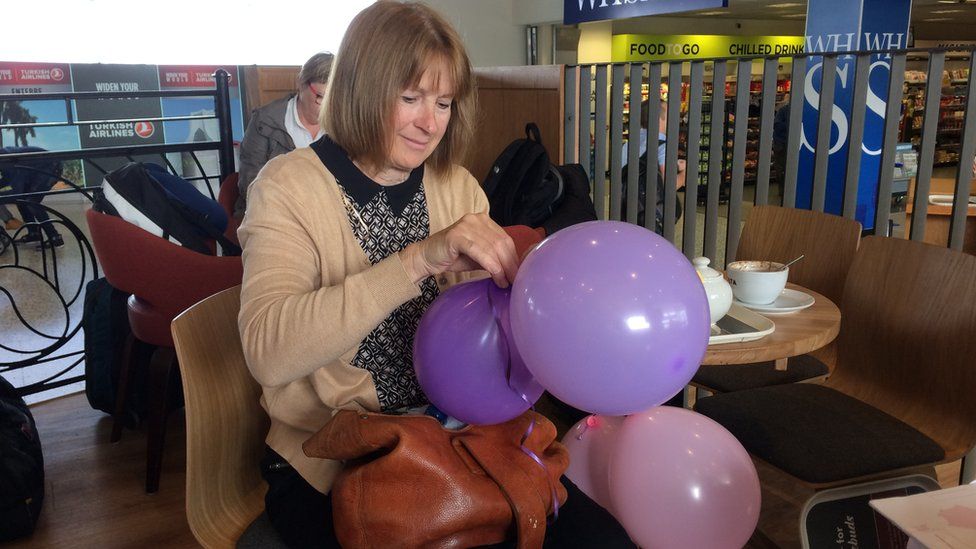 They have donated time, skills, money and even a house in a bid to be allowed to help a family of refugees resettle in the UK.
But, as the Home Office announces £1m to help more communities sponsor refugees, just how much work was it for one group of retirees, part and full-time workers to pull together and take responsibility for a family?
Christine Hughes kept seeing pictures and videos on Facebook of Syrian refugees and their desperate bids to get to the UK. And she wanted to help.
"I was hearing the most awful stories and just not sleeping," mother-of-four and grandmother Mrs Hughes said.
"If I started thinking about it before I went to sleep, that was it, I just couldn't sleep, because I knew what people were suffering right at that moment while there I was in my cosy bed."
No longer wanting to feel helpless, she and a few other people held a meeting in the Pembrokeshire town of Narberth to discuss what they could do.
A year later and she has finally achieved her goal - to resettle a refugee family in the picturesque market town.
It means community can take responsibility for resettling up to three refugee families - supporting their move here by setting up accommodation for them, helping them to learn English and eventually find jobs.
The vast majority of the 20,000 Syrian refugees the UK has committed to take in have come through the support of local councils. But community groups have sponsored 53 refugees in the last year.
But the group called Croeso Arberth - meaning Narberth Welcome - said it had not been straight-forward.
It had to raise £4,500 as insurance to cover each of the seven supported refugees, which is kept in a separate bank account for emergencies, as well as having £6,000 in the bank to cover the cost of things like interpreters, transport from the airport and a £200 allowance for each member of the family - given in small amounts for six weeks while they wait for their applications for benefits to go through.
A house had to be found, English lessons arranged, schools contacted and extensive Home Office forms filled in - and that was just to start.
The UK government website has information about how to sponsor a family of vulnerable refugees to resettle in the UK
Retired nurse Mrs Hughes said: "I had absolutely no idea of the amount of time I was going to have to donate to it.
"I have got a house I rent out, my mother is 93, I have got three horses, I've got four children, two of who have got grandchildren, and have a few little jobs cleaning guest houses, so I'm tearing myself away from different situations, just trying to cope, really.
"Halfway through the process I did think 'what am I doing', but thinking we were nearly there is what has kept me going."
The group, which has a core of 12 people with around 100 more who have expressed a desire to help, has committed to support the resettled family for a year, and be responsible for their housing - paid for with housing benefits - for two years.
Mrs Hughes said: "I started off as an email pusher - just keeping people informed about meetings and fund-raising events. Then I started doing practical things like phoning up the schools, I went to the police, I went to the doctors."
Shortly after she and other members of the group wrote an action plan for the Home Office - a plan that has been revised multiple times since the application first went in.
Jill Simpson, who works part-time at Pembrokeshire Coast National Park Authority, liaised with the Home Office on behalf of Croeso Arberth throughout the negotiations.
She said: "I spent months sitting at my computer, pulling together all sorts of information, writing documents. At times it felt as if it was being made very difficult, but I think that, on reflection, it is because it is such a new scheme and the Home Office people have been feeling their way as well.
"There was a lot of support, but you needed to get through this nitty gritty bureaucracy."
What community sponsors are expected to do
Meet the family at the airport
Provide a warm welcome
Provide housing
Help access medical and social services
English language tuition
Support towards employment and self-sufficiency
The group needed approval from local council Pembrokeshire to go ahead with the application, as well as getting approval from Citizens UK, who acted as the lead sponsor - with legal responsibility to make sure everything runs as it should.
Finding housing was extremely complicated.
Mrs Simpson said: "We had to describe the house to the Home Office, and it had to be available, but we didn't know how long it would take until we had a family, and that was really difficult because if you think about it no landlord is going to want to sit with a house empty waiting for a family to arrive at an unspecified time."
But the group struck lucky when local Oshi Owen, who was thinking about moving from her five-bedroom house in Narberth, heard the group were looking for somewhere for the refugee family.
Ms Owen said: "I had thought about moving in September, but when the group were looking for somewhere for a family of refugees I just said I will somehow manage it and make it work and committed to move out by April."
She will be paid rent through housing benefit, although she said it is below what she could get for the house if it was privately rented.
The group initially thought they might be able to have the family arrive in April and eventually the arrival date became July.
Ms Owen said: "I had to accept that for three months there wasn't going to be any rent coming in.
"But I would rather help people than it being about the money. It is about giving something to those in need."
She left some furniture in the house for the new tenants, while the community group cleared the garden and cleaned in preparation.
Ms Owen said neighbours were "shocked" to hear who was moving in, but "really want to make the family welcome".
With the house spick and span there was a nervous wait before the refugees arrived on 13 July.
As they walked through arrivals at Birmingham Airport they were greeted by a welcome party of interpreters and members of Croeso Arberth clutching balloons, chocolates and a big sign between them.
BBC Wales have agreed not to identify Narberth's newest Syrian residents - but we can say they are an extended family of seven from a refugee camp in the Middle East.
"I can't believe it is all over with now," Mrs Hughes said.
"I would never have expected it to be such a big thing to undertake, but I feel like the family are going to be fine, and it is the start of a new chapter now with them here. Things will go wrong, but we will just have to play it by ear."
Croeso Arberth have plans to sponsor another group of refugees in the near future, but hope it will be easier next time.
Mrs Hughes added: "Because we have been one of the first groups to do this it has been a learning curve for us and the Home Office, but hopefully they will be able to do things faster for other groups and it will all move along a bit quicker.
"Obviously I still think about the people still in refugee camps, but I know I cannot do any more than I have done and am doing."
Related Internet Links
The BBC is not responsible for the content of external sites.