S4C: Euryn Ogwen Williams in talks to lead review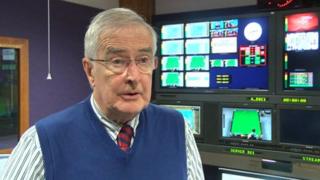 S4C's former director of programmes has been asked to chair an independent review of the channel.
It is understood that Euryn Ogwen Williams is in discussions to lead the inquiry, which has been commissioned by the UK government.
Mr Williams declined to comment.
The intention to hold an independent review of the Welsh language TV channel's role and remit was announced by the UK government in 2016.
BBC Wales understands Mr Williams's appointment to the role will be announced in August.
Difficulties in appointing a person to lead the review, as well as the UK general election in June, are believed to have delayed announcements about its chair and its terms of reference.
When plans for a review were announced, the UK government said its intention was for S4C "to continue to provide a first-class service and have a sustainable future".
The review will examine the remit, governance and funding of S4C, and examine how it can meet the future needs of Welsh-speaking audiences.
S4C receives £6.8m from the UK government, which has been frozen since the review was announced, while the BBC has committed to providing S4C with £74.5m per year until April 2022.
It also receives a small commercial income.
Huw Jones, chairman of S4C, said he hoped the review would provide financial security and a more modern remit.
He said: "For the next five years there is security of funding from the element which comes from the BBC licence fee.
"What we want, more than anything, is to have a discussion and a recommendation in the review as to how S4C's funding overall is decided in the future.
"And particularly taking account of what we would like to have in terms of a new remit, fit for the digital age, not defined as it is at present in 1982 terms of what a television service should be."
BBC Wales understands several other candidates have been approached to chair the review, including one person who accepted the opportunity before changing their mind.
'Limbo'
Plaid Cymru MP Ben Lake called for further details of the independent review to be published.
"The delay is unacceptable, quite frankly," he said.
"The [UK] government expects the board of directors and the executives of S4C to run the channel as normal and yet they have no certainty whatsoever about the level of funding and resources they might have from year to year.
"They are in a constant state of limbo, and it is not the way to run a channel - or to expect them to run a channel."
In a written parliamentary response to questions from Mr Lake, DCMS minister Matt Hancock MP said the UK government was "committed to carrying out a review of S4C's remit".
The full scope of the review would be set out in due course, he added.
Gill Hind, from Enders Analysis, said the review would need to focus on the challenges facing all public service broadcasters.
"It needs to be able to make its content available on every single device, it needs to be able to do different types of programming.
"S4C should be appealing to every single age group, and thinking: 'What sort of content do they want and what's the best platform to deliver that?'."
Ms Hind added the fact that S4C's content was in Welsh may mean it is better placed to fight for attention in a crowded TV market.
A Department for Digital, Culture, Media and Sport (DCMS) spokeswoman said: "The government remains committed to carrying out a review of S4C's remit, governance and funding in 2017.
"We will announce more details shortly."