Fly-tippers charged £100 to remove household rubbish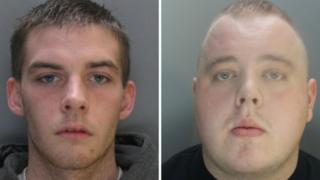 Two fly-tippers who charged people £100 to remove household rubbish but dumped it in rural locations across north Wales have been jailed for 40 weeks.
Conor Greenwood, 23, and Paul Parry, 26, pleaded guilty to charges of unlawfully depositing waste at the case at Llandudno Magistrates' Court.
District judge Gwyn Jones said they picked rural areas to dump the rubbish as they hoped they would not be traced.
Natural Resources Wales (NRW) led the prosecution.
Prosecuting solicitor Gwyndaf Pari said Conwy, Denbighshire and Gwynedd councils, as well as the police, took part in an inquiry to find the culprits.
Waste from a house clearance had been left by the pair on land near Llyn Brenig on Denbigh Moors, in May last year.
A fridge and mattress were among items dumped on a bridle path at Abergele and a van load of waste was left at Prion, near Denbigh.
Rubbish was left at Bryn y Maen, near Colwyn Bay, along with a washing machine at Llansannan, near Abergele, with further waste left at nearby St George, and other places in the wider area.
Defence solicitor Graham Parry said Greenwood, formerly of Prestatyn but now Plymouth, had been sent to prison for six months last January and he had since moved to live with his father in Plymouth, gone to college and started work as a fisherman.
David Jones, defending Parry, of Old Colwyn, said he had financial difficulties at the time and was remorseful.
Det Con Eryl Lloyd of North Wales Police, seconded to NRW, said: "They undercut legitimate waste operators for financial gain and didn't care about the impact of their crimes on the environment, the people who enjoy it and the wildlife that lives there."