Mental health patients stuck in units awaiting discharge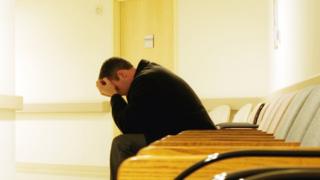 Some mental health patients in Wales are facing long delays stuck in acute units despite being declared ready to be discharged, figures have shown.
One patient waited two years and eight months to leave a unit in Hywel Dda University Health Board.
Around Wales, eight patients had to wait more than a year before being discharged and at least 25 patients waited more than 100 days.
Experts said problems with housing and budgets were to blame.
The figures, which come from a BBC Freedom of Information request and cover the past two years, show at least 325 patients in the UK had to wait 100 days or more to be released.
Of the health boards to answer the requests, Hywel Dda also had the UK's second highest percentage of beds in delay at 20%.
At Betsi Cadwaladr, at least five patients faced delays of more than a year, although the health board said they were in accommodation to meet their needs.
The longest wait for patients at both Powys Teaching Health Board and Cwm Taf health board was more than 300 days, while Aneurin Bevan's longest wait was 153 days.
Abertawe Bro Morgannwg and Cardiff and Vale did not provide information.
Dr Sridevi Kalidindi, of the Royal College of Psychiatrists, said disagreements between different health bodies over how to fund a patient's placement could lead to delays.
"Where those relationships are not quite right, where everyone feels under a lot of pressure in terms of their own finances that's often where people can disagree," she said.
She also said the benefits cap was making it harder for providers to meet demand for accommodation for patients in the community.
"We know around the country of supported housing placements closing down as a result of this," she added.
"We also know of supported housing that was going to come online being shelved by large housing providers who are in this space."
Joe Teape, director of operations for Hywel Dda, said while they were unable to discuss individual cases, staff were working hard to reduce delays and could "report a sustained reduction in the number of people delayed".
He said the health board had recently launched a consultation with the aim of improving adult mental health services.
A spokesman for Betsi Cadwaladr said: "Our longest instances of delayed transfer of care refer to learning disability patients who require extended periods of care within purpose-built health board premises.
"The patients are not being cared for on acute wards, but in accommodation specifically designed to meet their care needs."