'Strong case' to compensate slow speed broadband users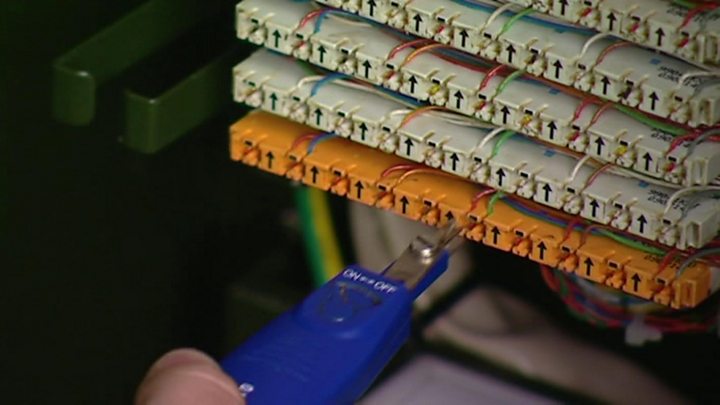 The areas of Wales with the slowest broadband connection speeds have been revealed, as MPs back calls for customers to be compensated.
A report by the British Infrastructure Group lists the worst performing parliamentary constituencies in the UK, with seven of the top 20 in Wales.
Carmarthen East and Dinefwr had the slowest broadband connections in Wales, ranking fifth overall.
The Welsh Government has described the report as "misleading".
It said it failed to highlight the availability of faster services and the rollout of its Superfast Cymru programme.
The report, which uses 2015-2016 data from the industry regulator Ofcom, is backed by MPs Liz Saville Roberts (Dwyfor Meirionnydd), Ben Lake (Ceredigion) and Tonia Antoniazzi (Gower).
It calls on the UK government to introduce minimum standards for the broadband sector, and Ofcom to consider how customers can be compensated when they "consistently fail to receive the speeds that they pay for".
The data shows in Carmarthen East and Dinefwr, 58.2% of broadband connections are slower than 10mbps.
The other constituencies in Wales to make the top 20 list include: Montgomeryshire (six), Ceredigion (eight), Dwyfor Meirionnydd (12), Carmarthen West and South Pembrokeshire (13), Brecon and Radnorshire (14) and Merthyr Tydfil and Rhymney (18).
A Welsh Government spokesman said there has been "tremendous progress" in the availability of superfast broadband thanks to its Superfast Cymru programme.
They said the latest Ofcom report shows Wales has the highest availability of superfast broadband among the devolved nations, with over eight out of ten premises with access compared to just over five in 2014.
The spokesman said "there is much to due to reach the final premises" including those not part of the Superfast Cymru rollout.
But he added it was hoped recently announced potential funding of £80m will "reach the small percentage of premises" which are not part of the Superfast Cymru project or commercial rollout.
BBC Radio Wales reporter Gilbert John spoke to broadband customers in the Towy Valley in Carmarthenshire.
Michelle Powell is a volunteer coordinator at Dryslwyn Community Shop, which despite being located close to an exchange, has had to set up a blue wave satellite-based connection for its internet cafe.
She said it allows them to do all their stock ordering for the shop, and people come down and do their business, such as their accounts or selling items on eBay.
Joe Wright is the manager of Wright's Food Emporium across the valley, and despite upgrading to fibre optic broadband three months ago and paying more, is only achieving average speeds of 8mbps.
"When we've complained about it, they've told us that the wireless connection isn't guaranteed and that it's only the Ethernet cable connection that is guaranteed - so there's not much we can do about it," he said.
"It just means everything is slower when we're trying to get on with stuff.
"It's quite frustrating."