Community union looks to self-employed membership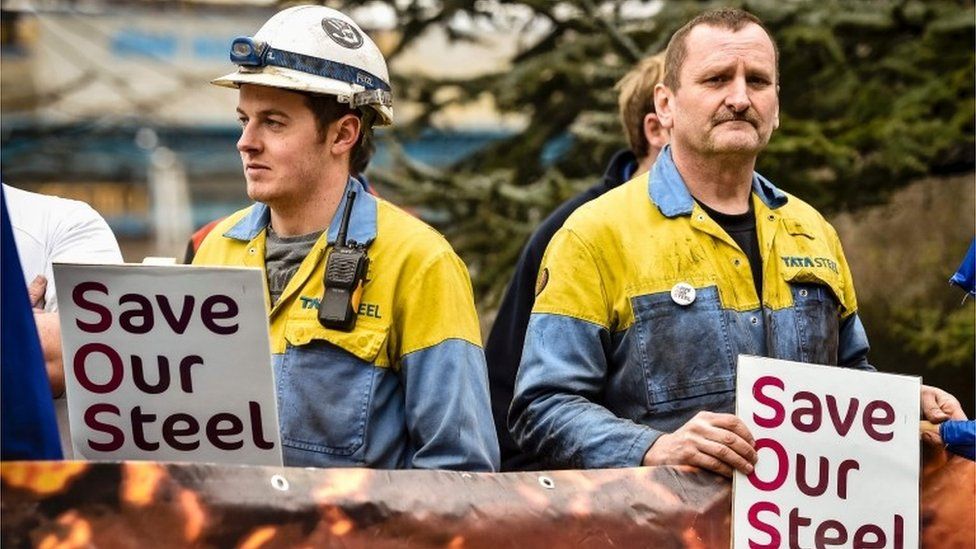 A steel workers' union is reaching out to the ranks of the self-employed to react to "rapid change" in the economy.
Community has seen a 25% drop in membership and is "adapting to the economy right now".
It has teamed up with Wales-based social enterprise IndyCube, which has a growing network of co-working spaces for freelancers and entrepreneurs.
The tie-up offers legal, invoicing and tax support.
As delegates meet at the annual TUC congress in Brighton, the union with a century of experience in traditional industries is looking to the new.
Rob Edwards, Wales regional secretary of Community, said: "We've got 5.5m people self-employed in the UK who are not members of a trade union - we have to adapt to bring them in and organise them."
He said the partnership with IndyCube was a "perfect marriage" where the union provided legal services, while IndyCube could help with issues like paying invoices on time.
Unions have not stood still over the years, as work itself has changed. It is exactly 100 years ago that the law was brought in to make it easier for them to merge or amalgamate.
The 1980s and 1990s saw big changes with restrictive UK government legislation and a decline in traditional industries which had been union strongholds.
Over the last 20 years, some have grown into super-unions with catch-all names - like Unite and Unison - that reflect the diverse trades and services they represent; others have dwindled or simply disappeared.
The Community union was founded in 2004 out of a merger of the Iron and Steel Trades Confederation (ISTC) and the National Union of Knitwear, Footwear & Apparel Trades (KFAT).
KFAT can trace its roots back to stocking-makers in the 18th Century and leather, glove and shoe-making from the 19th Century.
ISTC had already amalgamated nine unions, which as well as power-loom workers and iron and tinplate workers, included the former National League of the Blind and the Disabled, which claimed to be the oldest trade union representing disabled people.
Community has seen its membership drop in the last four years to just under 27,000.
Job cutbacks and pressures in some other sectors have had an impact on other unions too.
The PCS civil service union has lost 29% of its membership and Unite 10%.
But the Royal College of Nursing, shop union Usdaw and rail union RMT have all seen increases.
Mark Hooper, founder of IndyCube, is looking to expand the network of 28 co-working spaces across the UK over the next five years.
They are already offering services including dealing with late payments and Indycube Community is the next step.
"Both the Community union and IndyCube were interested in what the future of work would look like - it was one of these things, it became a close fit - they're a trade union, we're a social enterprise," said Mr Hooper.
"We wanted to make sure we could help with specific actions which make independent work less precarious.
"We started talking and realised there was a gap in the market and no-one was providing a union for the self-employed and no-one was providing services we were able to get, that would help people."
Eifion Jones, a film-maker and sound designer, who works at the IndyCube space in Swansea, is one of the new members.
He said there was the potential for better deals on insurance and software for freelancers.
Community is not the only union reaching out to the new economy.
The Independent Workers Union of Great Britain is a small union, which started in London five years ago to represent predominantly low paid migrant workers.
It also now includes security guards, foster carers - including members in Wales - couriers and receptionists.
As well as as bringing test cases ranging from sick and holiday pay to recognition, the union is also lobbying.
Spokesman Emiliano Mellino said: "Employment law is very clear, we're not looking for a change in the law but to make a massive difference we need a change in the enforcement regime so companies can't do anything they want.
"We need to strengthen the status of workers and give workers more rights."