Trussell Trust wants food bank plan to tackle 'crisis'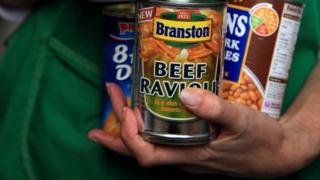 Wales has "unique problems" related to poverty and is "vulnerable" to a growing reliance on food banks, a charity's director has warned.
The Trussell Trust's Tony Graham wants the Welsh Government to help form plans to stop people "falling into crisis".
Between April 2016 and March 2017, it gave 60,387 emergency food parcels to adults and 34,803 to children.
The Welsh Government spokeswoman said it was working to "help people out of poverty".
Emergency food parcels given out by the Trussell Trust rose from 79,049 in 2013-14 to 85,875 in 2014-15.
It then dropped to 85,656 in 2015-16 but rose by 11% to 95,190 in 2016-17.
Mr Graham, director of devolved nations, described Wales as being "streets ahead" of other UK governments in tackling food poverty with schemes such as free school dinners.
But he said: "Wales started from a much lower baseline in terms of wage levels and income than south east England when welfare reform was introduced in 2012.
"So when benefits caps and universal credit came to Wales, they hit it much harder."
In the past nine years, the Trussell Trust has opened 36 food banks in Wales.
But Mr Graham said care agencies and housing associations were increasingly highlighting "holes in towns" where more help is needed.
"The myth is that skivers and scroungers use food banks but many hard working people are in crisis," said Mr Graham.
"When you're working full time and still can't afford to feed your family - it's a powerful example, not just of the benefits system, but the amount we consider acceptable for a day's work."
Stagnant wages, an increased cost of living and people not saving as much were among the reasons for the spike, said Mr Graham.
"The whole UK is potentially vulnerable but Wales has some unique problems - job creation, Brexit, no-one really knows what the impact will be."
Mr Graham praised a £500,000 Welsh Government scheme, launched on Tuesday, to provide school holiday meals in some of the most deprived areas.
But he wants organisations and community groups to help develop this programme to create a "long-term coordinated solution to stop families falling into crisis".
Issues affecting food banks were highlighted in July, when an independent facility, Eastside Food Bank in Swansea, ran out of supplies.
School holidays were blamed, with no free food for youngsters during this period.
People answered the call to restock the shelves and Rev Chris Lewis, who runs the food bank, said he was looking to open it twice a week because of demand.
"It is not just the homeless and people on benefits using it. Last week, a woman who is working came in after a utility company took the bill early which wiped her account," he said.
A Welsh Government spokeswoman said: "We are working hard to increase prosperity for people in Wales and help people out of poverty.
"Job creation, closing the education attainment gap and improving skill levels are top priorities and represent the most effective levers at our disposal to tackle poverty in Wales."
Bangor University's social policy expert Dr Hefin Gwilym conducted research in 2015 with PhD student David Beck, listing 157 food banks in Wales.
He said the number had "reached a plateau" but added: "Need is going up, demand is going up. There are debates around whether this is the responsibility of the voluntary sector.
"You could argue that they are doing something the state should be doing."
His evidence suggests they are more likely to appear in areas with church and community groups, a strong volunteering ethos and sometimes more affluent areas, meaning they are sometimes not widely accessible where the need is greatest.