The Princess of Wales remembered: When Kevin met Diana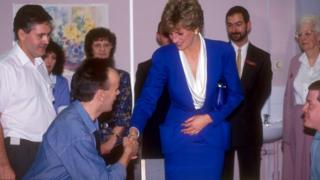 On 31 August 1997, the news that Diana, Princess of Wales had died in a Paris car crash shocked the world. On the 20th anniversary of her death, a BBC documentary looks at Diana's relationship with Wales and its people.
In 1990, Frances Elliston got the news every parent dreads: her son, Kevin Mann, was desperately ill.
He had pneumonia, she was told over the phone by a nurse from the Royal London Hospital; she should come straight away.
Mrs Elliston, now 80, travelled to London from her home in Cardiff with her daughter and son-in-law. What they found when they got there was worse than she could have ever imagined.
"On the door of Kevin's room, it said 'please knock' and they had to unlock the door to let us in," she said.
"We had to go into this room and put masks, gowns and special shoes on.
"I prayed for the good Lord to take him there and then. He looked so, so ill, it was dreadful."
A doctor told the family that Mr Mann had Aids and that he had a year, perhaps 18 months, to live.
The 30-year-old artist defied the prognosis - not just surviving, but thriving, his mother said, for another four years.
He was treated at Mildmay, Europe's first hospital caring for people with Aids-related illness. The next few years, Mrs Elliston said, were "plain sailing".
"They looked after him, he went in and out, he went to day centres and he'd call me up whenever he wanted me to look after the cat and the bird while he went abroad," Mrs Elliston added.
"He was so fit he even learned to drive. I ended up having a triple heart bypass and he came home looking after me. Those four years were so precious - so, so precious."
In 1991, during a stay at the hospital, Mr Mann and his mother met Princess Diana.
The princess's pioneering attitude towards HIV/Aids had already had an impact on the public perception of the disease.
In April 1987, while opening the UK's first Aids ward at London's Middlesex Hospital, Diana shook the hand of a patient, thereby dispelling the widespread fear at the time that HIV could be caught by touch.
"It was most definitely groundbreaking," said Mrs Elliston. "She did it without thinking, he was a human being, never mind what was wrong with him, that was her attitude.
"Attitudes then were very different and I was wary of who I told about Kevin's illness.
"People were afraid, it was ignorance. They didn't know enough and they were frightened."
Princess Diana made several trips to Mildmay, sometimes late at night.
Her encounter with Mr Mann left a lasting impression on him.
"Kevin was sat at a table with his paintings in front of him and Diana sat right next to him and said 'Oh they're lovely watercolours'." Mrs Elliston said.
"He said 'Would you like them?' and she replied 'Well, wouldn't your family like them?'
"Kevin said 'Oh no they've got everything they want' so Diana said, 'Well Charles is quite partial to a watercolour' and she took four of them home."
A few weeks later, the princess invited some of the staff and patients to afternoon tea.
"Unfortunately, Kevin couldn't go because it was one of his bad days," Mrs Elliston said.
"But the others went and when they came back they went rushing to his room saying 'Kev! Kev! Your paintings are on the walls in Kensington Palace'. Oh, the room lit up."
"He was on cloud nine after he met her," she added. "He was awestruck for days after.
"He felt she genuinely cared. She didn't just do it for popularity."
Mr Mann died in 1994, aged 35.
His mother went on to volunteer for HIV/Aids charities, determined to help other parents of children suffering from the illness.
"[Diana] gave me that sense of mission, because she was making a difference. She helped the cause of HIV and Aids - she put it on the map.
"There were loads of people I didn't tell about Kevin's illness.
"Things have changed for the better - I don't care now who I tell. That was through Diana - because she opened the doors wide."
Diana: The Last Princess of Wales is on BBC One Wales at 21:00 BST on 30 August