Welsh firms named for not paying national minimum wage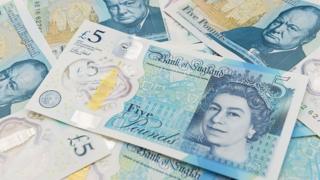 Seventeen employers in Wales who failed to pay workers the minimum wage have been named by the UK government.
Most firms neglected to pay one worker the required amount while collectively the 17 owed staff more than £30,700.
Pembrokeshire National Park resort Bluestone was the biggest employer on the list and underpaid two members of staff.
The employers, who have all repaid the money, ranged from restaurants to nurseries and hairdressers.
In 2013, the government revised rules allowing it to publicly name companies found to have breached wage laws.
The national minimum wage is £7.50 per hour for over 25s and £7.05 for those between 21 and 24.
It is £5.60 per hour for 18 to 20-year-olds and £4.05 per hour for 16 to 17-year-olds while apprentices are entitled to £3.50.
Those who do not pay the correct rates can face fines of up to £20,000, as well as criminal prosecution.
A Bluestone spokesman said the underpayment was due to "a minor compliance issue" over money deducted from pay for accommodation.
"For staff who pay rent for accommodation provided by the company, we were required to deduct their actual rent paid from their gross pay each month and add back a set daily rental allowance [about £150 per month] to determine the effective hourly pay rate."
He said £250 the employees paid for rent included bills, but this was not taken into account when HM Revenue and Customs made its calculations.
---
The 17 employers who underpaid workers were:
William Gareth Griffiths and Llinos Griffiths trading as Gareth Griffiths, Ceredigion, failed to pay £9,230.56 to one worker
Tracey Newnian of Tracey's Unisex Salon, Carmarthenshire, failed to pay £3,879.67 to one worker
Thai Lounge (Cardiff) Ltd neglected to pay £2,527.27 to four workers
Bluestone Resorts Ltd, Pembrokeshire, failed to pay £2,378.98 to two workers
Paul Isaac and Hayley Isaac trading as Refit Design Shopfitters, Neath Port Talbot, failed to pay £1,941.04 to one worker
Burlesque Hair Company Ltd, Newport, did not pay £1,672.58 to three workers
Celtic Community Services Ltd, Rhondda Cynon Taff, failed to pay £1,521.44 to five workers
Kingston City Properties Ltd, Cardiff, neglected to pay £626.01 to one worker
Burrows Day Care Nursery (Porthcawl) Ltd, Bridgend, failed to pay £550.30 to four workers
The Wild Swan Ltd, Swansea, failed to pay £380.71 to four workers
Talal Al-Arab and Hani Hussain trading as Bella Pizza, Gwynedd, failed to pay £377.25 to one worker
Mandy James trading as Prince of Wales Treorchy, Rhondda Cynon Taff, did not pay one worker £254.34
M Camilleri and Sons Roofing Ltd, Vale of Glamorgan, failed to pay £1,150.68 to 11 workers
Adeiladwyr Eryri Builders CYF, Gwynedd, neglected to pay £864 to one worker
Dylan Rhys Roberts trading as D R Roberts Plumbing and Heating, Denbighshire, failed to pay one worker £735.58
Whistlestop Cafe (North Wales) Ltd, Denbighshire, failed to pay £433.68 to one worker
Ruthin Castle Hotel Ltd, Denbighshire, failed to pay £2,182.49 to one worker